By Cole and Will
Yo what's up Inti fam. Wilaureneomichrisjulianyosh Colairmate Bridanachris here to give you the fill for the past week. It was the long-awaited Salkantay trek week, which in layman's terms meant that starting Wednesday, we had 42 daunting miles staring at us in our out-of- shape, lazy bodies. To give some more context, the night before, we had met our two guides for the trek: Antonio, a direct and drill sergeant-esque, dauntingly athletic little man who prompted sir-yes-sirs every time he looked at me with his beady black eyes; and Merci, the bubbly and optimistic assistant guide. We all felt very safe and secure amongst these competent trek leaders.
Wilaureneomichrisjulianyosh Colairmate Bridanachris started their life-changing journey off on Wednesday at the crack of dawn, emerging from a long bus ride onto the trail around 10:00 am. We were given a banana, a cheese and bread sandwich, cookies, and some encouraging words before we were thrust into the battlefield: the point of no return. Naomi threw up a lot and we all watched. From this point on, words can't describe the wonder and beauty of the beautiful scenes to our left, right, front, back, and middle for the next four hours of walking. Fat, picturesque, and diverse mountains (including a glacier!) surrounded us as we increased in elevation at an exhausting pace until we reached our final elevation of 14,000 feet, at our campsite, and many of us felt like a fish with no water. At the campsite, we chowed on surprisingly yummy (and not surprisingly, healthy) food and went to bed early in our tents of two. Some woke up at 1:00 am to the sound of the nearby glacier having an avalanche baby. Many learned their lesson about wearing warm clothes to bed.
The next day Wilaureneomichrisjulianyosh Colairmate Bridanachris woke up freezing and terrified at 5:30 am to coca tea provided by the trek chefs. This helped us quickly wake up so we could soon embark on another day of leg movement: this time taking about six hours. Once again, words can't describe what happened that day as it was mainly an oxygen-depleted delirium. Bottom line is, we ended up sleeping in our tents in someone's backyard and then woke up again at another ungodly hour. On this day, also known as Friday, we walked another six hours through indescribably indescribable scenes, including bridges and paths through the forest. That evening, after our daily prolonged leg movement and after a lunch, we went to some natural hot springs which were near to our campsite for the night. Yo Cole take the Mic. Word.
Dinkers, what up fam. So the start of this day was a lush 4:00 am wake up to more coca tea. We had a strugglesome time emerging from our tents to a pretty delicious meal before our final day of trekking. We said our goodbyes to our hosts and cooks for the last day and sent it fatty style up the mountain. We made it to an Incan ruin where Antonio gave us more info about the history of the place and showed us where Machu Picchu was across the valley. This was the peak of our hike, and the rest of the day we made our way down the slippery sloppy trail to the bottom of the valley where we crossed a super fun wobbly, swaying, wooden bridge. We had a quick lunch before following train tracks for another four hours, occasionally dodging oncoming trains and balancing on the tracks. We finally made it to Aguas Calientes, a touristy town with more gringos than we'd seen in quite some time. After getting to our hostel we were able to shower and scrub our bods of the past few days of gnar and feel satisfied that we made it over mountain ranges and jungles and 42 miles of the past few days. We went out for dinner in groups. During dinner all the power in the city went out for the rest of the night, so we were able to have a nice romantic candlelit dinner over our overpriced food that came with free nachos. We all passed out pretty early and easily in real beds with mattresses.
We woke up the next day at a dark and early 3:00 am to shove our faces full of bread and go wait in line until 6:00 am where we all experienced some first-hand mass tourism before the awaited the world wonder. We bussed up a curvy road, dodging hikers, and then waited in one more line before walking up some stone steps back and forth and back and forth until suddenly we were overlooking the stone city of Machu Picchu! For many of us, we'd dreamed of this since childhood and it was surreal to finally be there seeing the ancient Incan city, the giant face of the mountain, llamas frolicking around in the distance, and whack tourists with selfie sticks everywhere. Antonio gave us a tour, explaining to us what different parts of the ruins were, the history, the incredible architectural skills that may or may not have been aliens, and finally taking some group pictures before we said our goodbye to the "dauntingly athletic little man". Since it wasn't even 7:00 am yet we had all day to explore the ruins and hike up to the Incan Sun Gate and Incan bridge and feel the energy and vibes of the ancient place before saying our goodbyes to the world wonder. We even got stamps on our passports, which was rad.
We bussed back to town, had a quick lunch and got on a train, which was my first real time on a train so I was pretty hyped about that. We got to see some more cool countryside on our way to Ollantaytambo and we traded vehicles to a bus for another three-hour ride to Cuzco. After a really long day and finally making it to our hostel, we went out to dinner where many of us enjoyed some fat boy sandwiches with hella sauces to grub with before cakin out in our beds.
The next day we had a chill day of going to the market, doing any last minute shopping of gifts and items we needed to acquire, and filling out our final trip evaluations before going out to a dinner reservation which was unheard of for this trip. Also, Josh got lost somewhere in the city, so while we went to the restaurant Kate and Julian tracked down the missing child before showing up to the restaurant with el niño perdido. DAMN that food was good-ish. Being stuffed full of something other than lentils and rice is almost as lush as rubbing a baby alpaca. We went back to our hostel and spent a few hours packing all our stuff into our bags while jamming to some tunes for our final night in Peru.
This morning we all woke up and had breakfast before our last group meeting of some feel-good gratitude activities, a reminder of all the people we met and things that happened over the course of our trip, and some wordless eye contact activity which caused some emotional eyeball liquidation in some group members. We also had a final group song before the crew went out to get another round of fatty saucy sandwiches and snacks before waiting for the taxis to the airport.
At the airport we checked our overweight bags, said our sad goodbyes to the one and only Kathryn Abraham and went through security to wait for our flight to a nice and lengthy eight-hour layover before our actual flight back into LA. We're currently kickin' in the Cuzco airport chillin out before making our way to Lima. Special shout to Robert from Alaska for being a cuddi, my parents for sending me a birthday package I received yesterday or the day before (I don't understand time anymore), Kate for being the homie, everyone at Carpe Diem for making this happen. Julian, for also being the homie but he's still with us so we don't have to say bye yet, and all of our families and friends back home. We're stoked to see you and we'll be there soon.
PS. Mom if you see this and can bring me milk to the airport that would be friggin sick, they only have warm canned milk or dry bag milk here.
With much love from me and the rest of the Inti fam,
PEACE.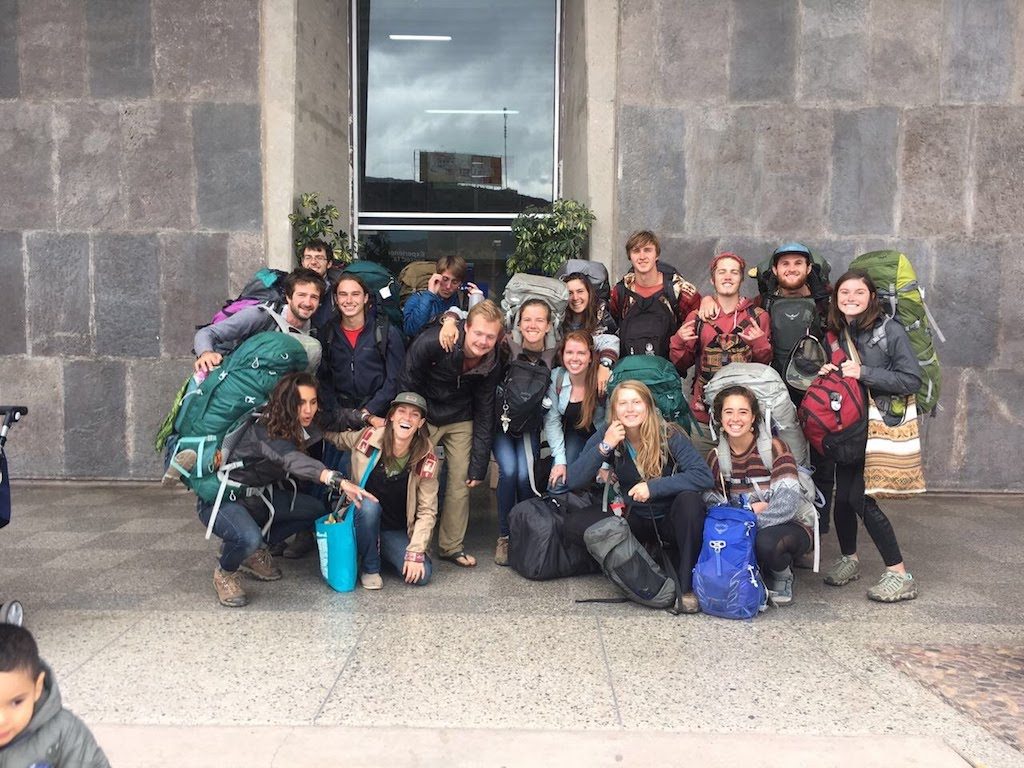 At the airport.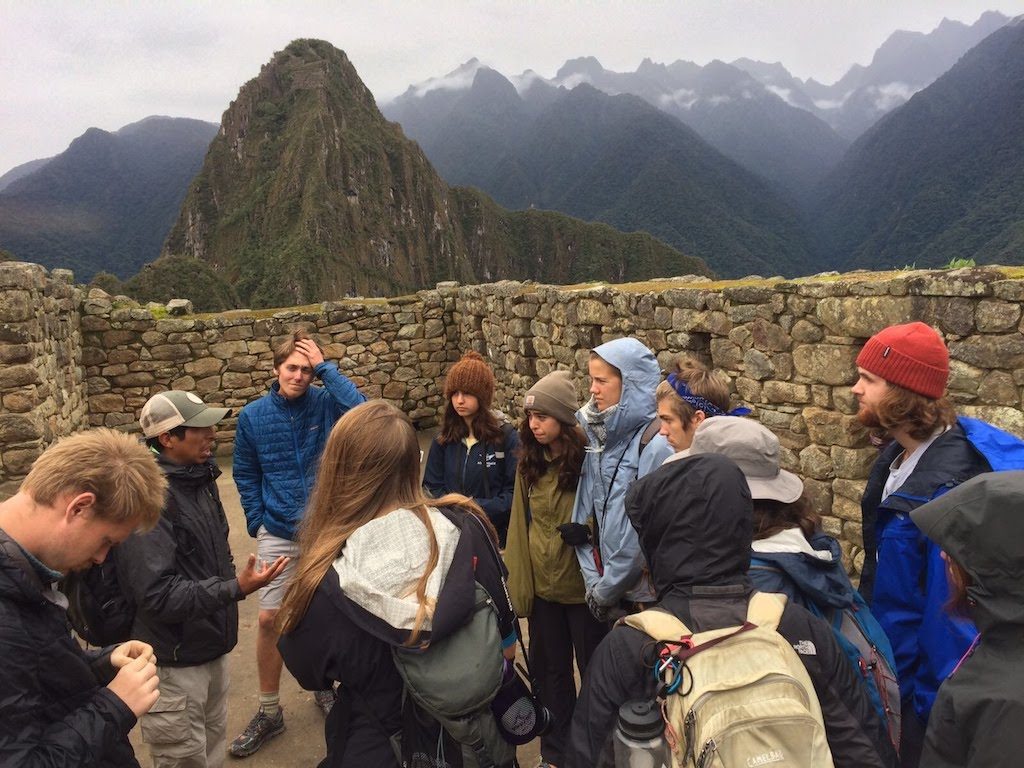 Learning about Incan history at Machu Picchu with our trek and tour guide, Antonio. We are currently standing above what is believed to be the tomb of the 9th Incan King!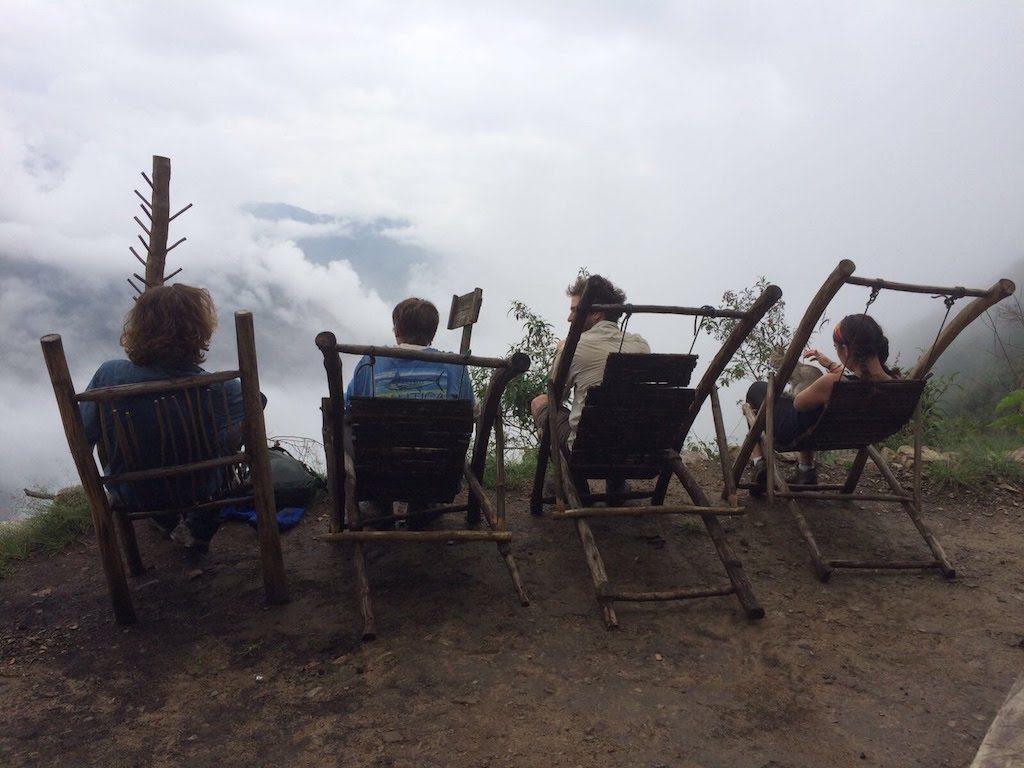 Cloud views and conversations on a short break.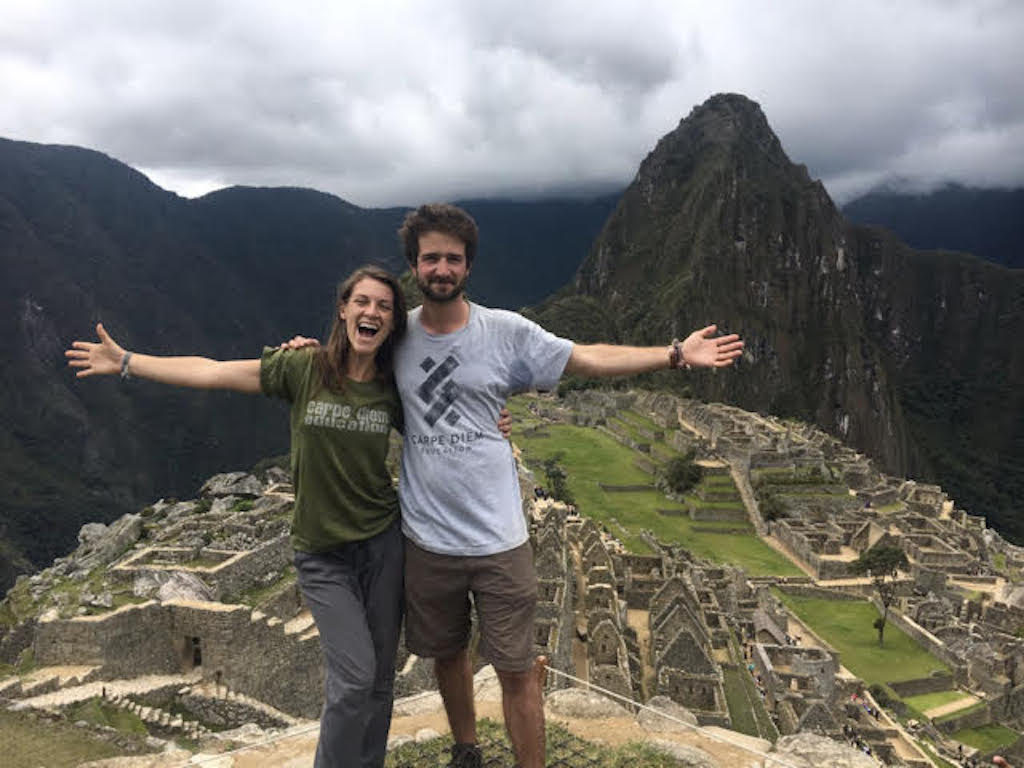 Kate and Julian happily carpeing the diem!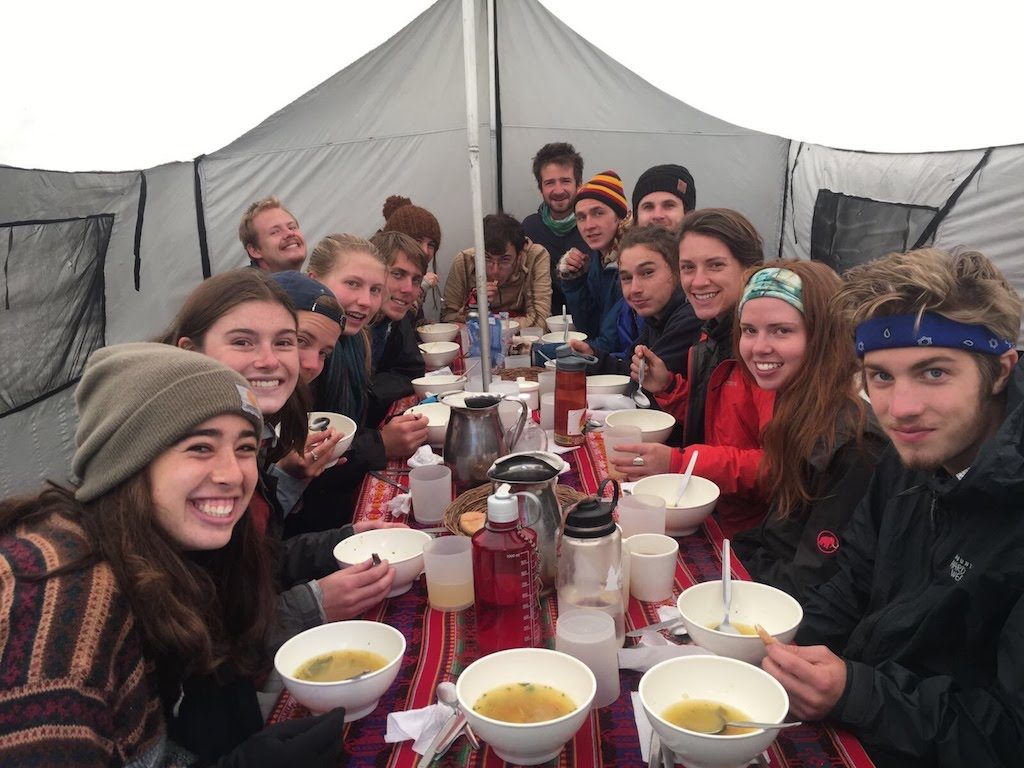 Inside the dining tent being fed a multi-course meal! (Soup course pictured.) The food was excellent, nutritious, and plentiful!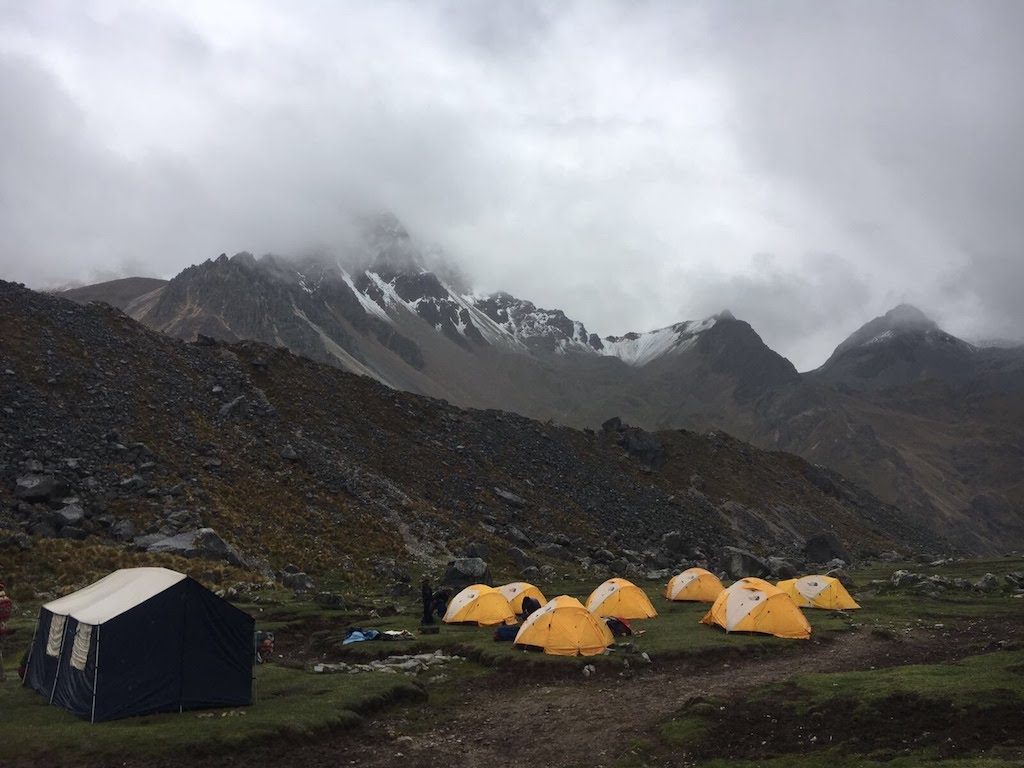 Camping our first night featuring a dining tent, sleep tents, and dramatic mountains watching over us.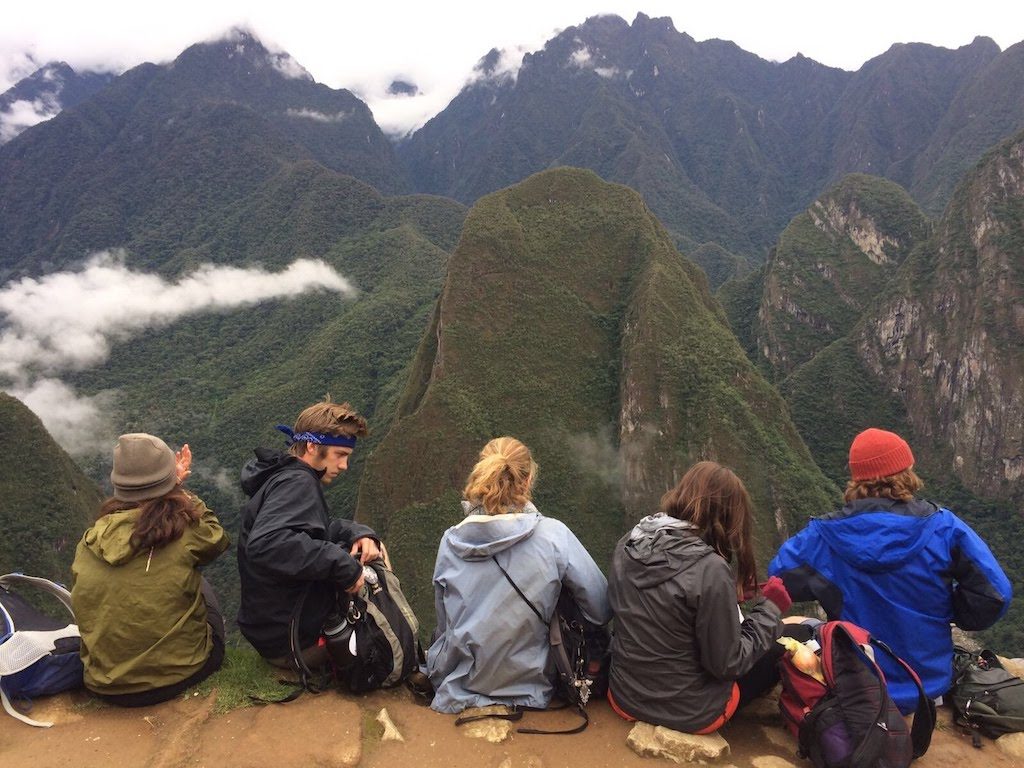 Time for journaling and awe while at Machu Picchu.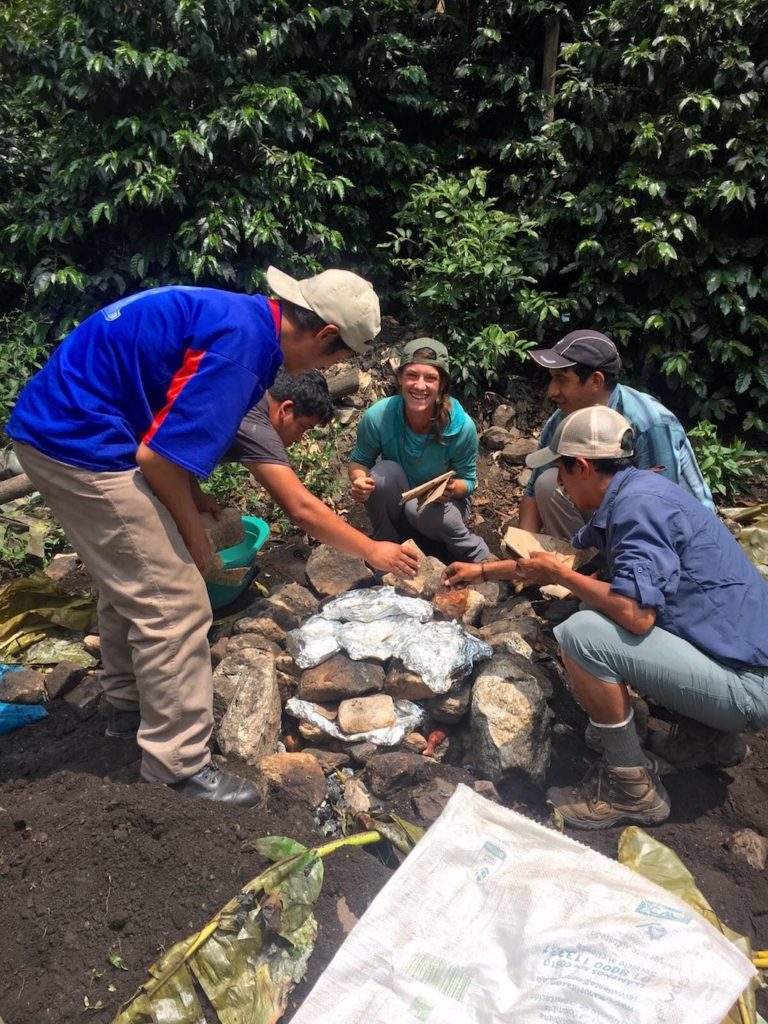 Kate helps to unbury lunch from the land it was cooked beneath. Completely delicious!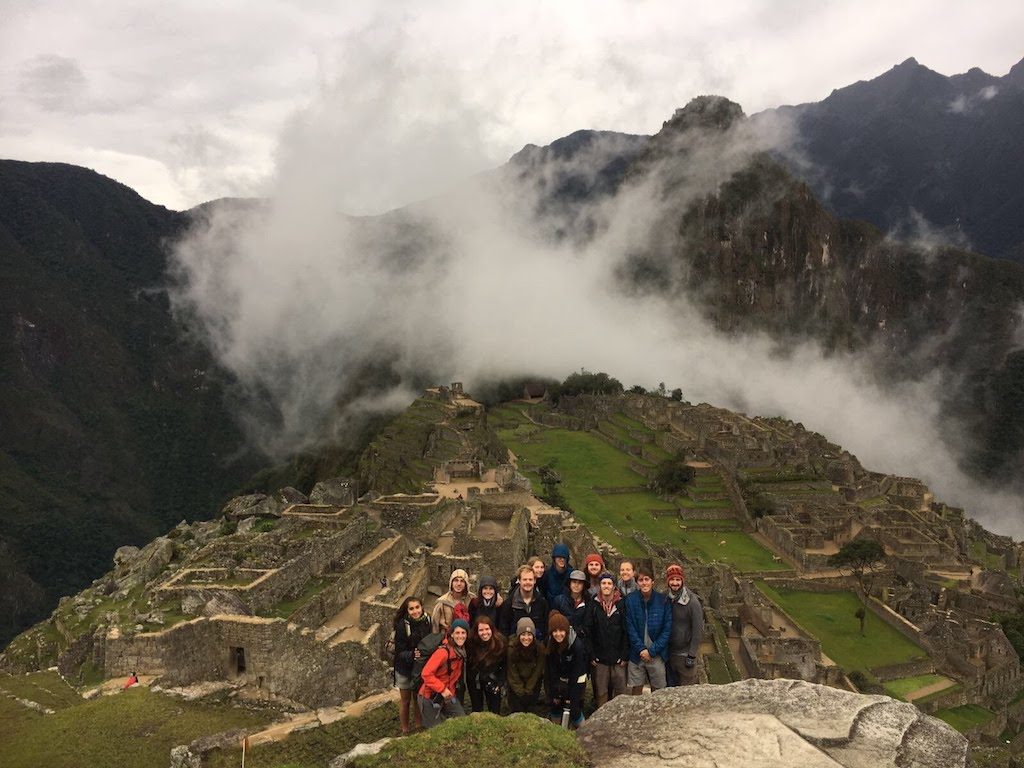 Inti family at Machu Picchu!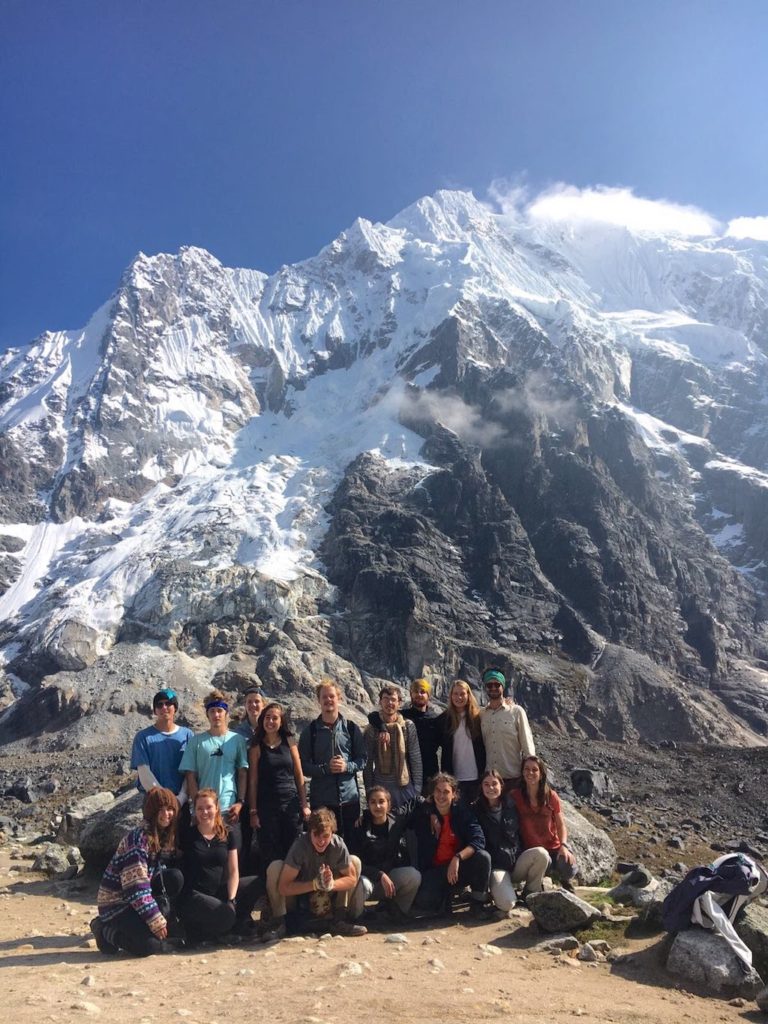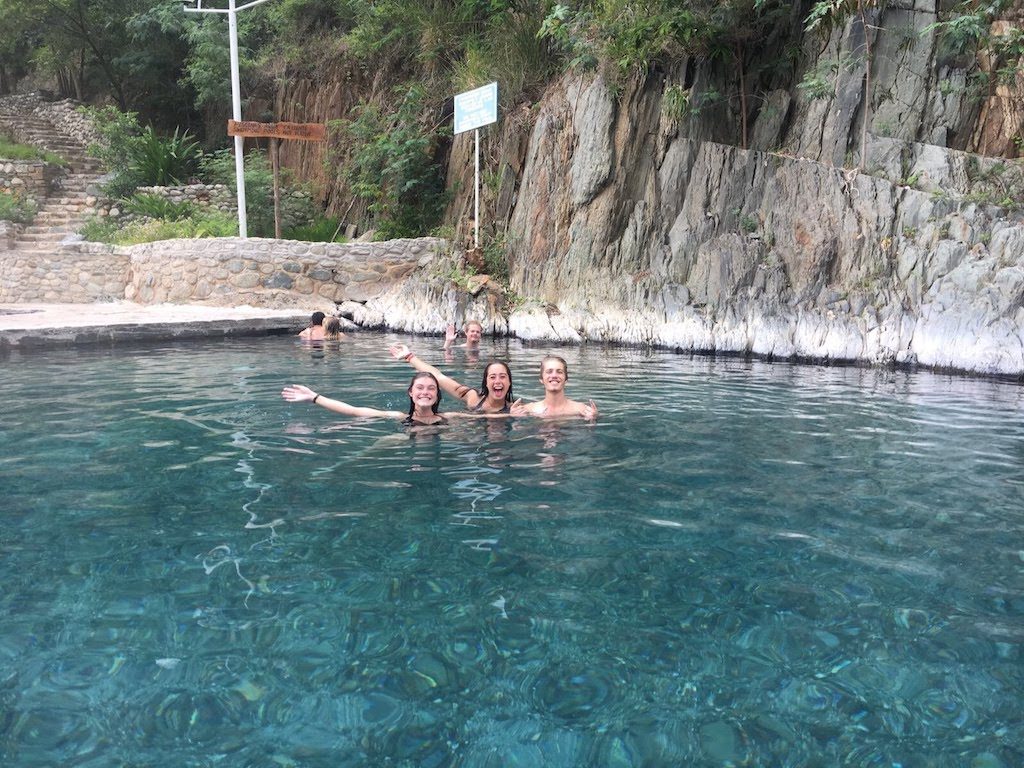 A stop at the natural hot springs to sooth our hard working muscles. Lauren, Miki, Cole, and Christian enjoy one of the hotter pools.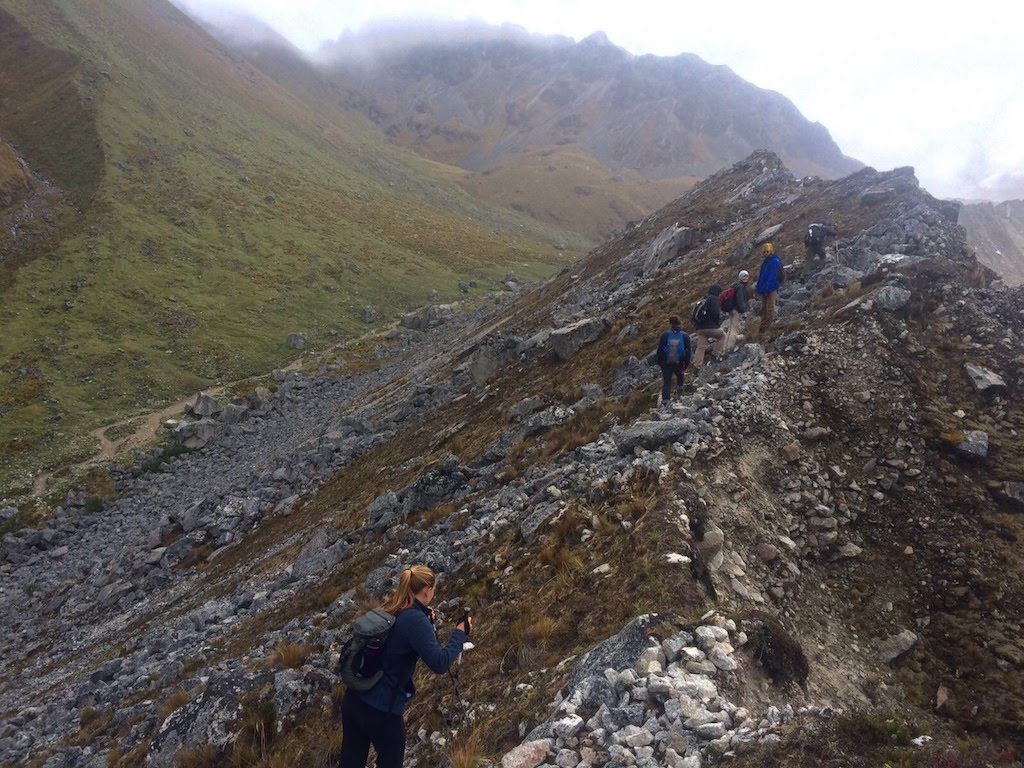 More ridge line hiking with Anya, Matt, Cole, Lauren, Chris, and our wonderful guide, Antonio.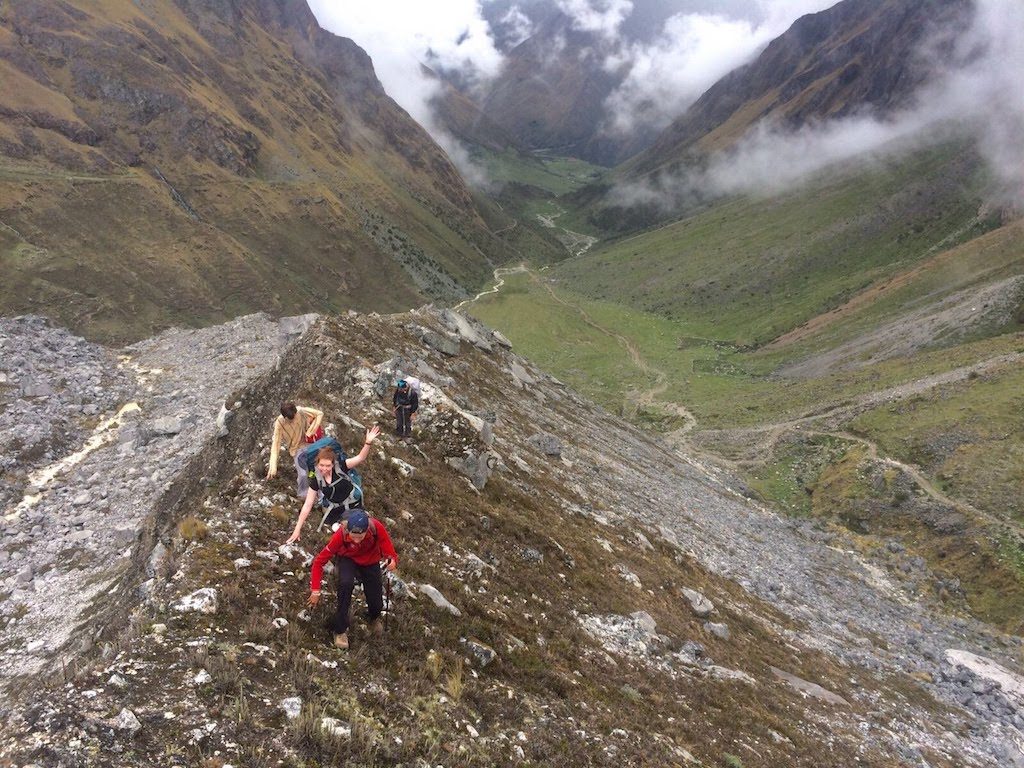 Renne, Claire, Josh, and Brian hike a ridge line high above the river valley we started in.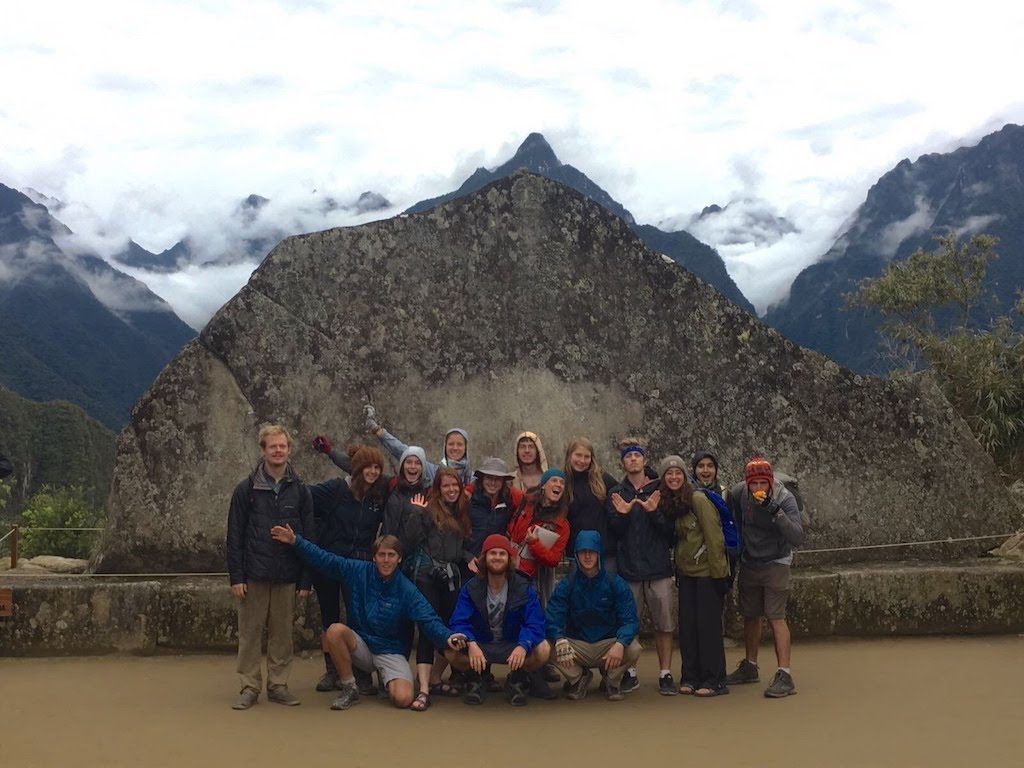 Team Inti in front of a sacred rock cut in the shape of a guinea pig (head on the right, tail on the left.)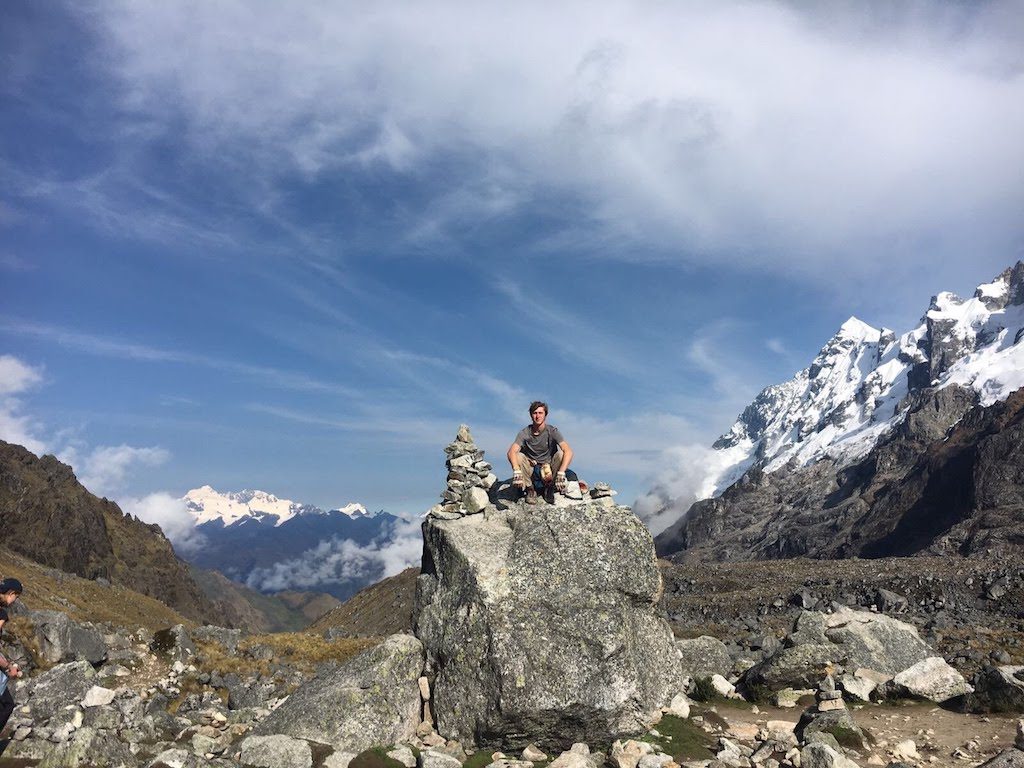 Salkantay pass! The air was thin and our spirits were strong.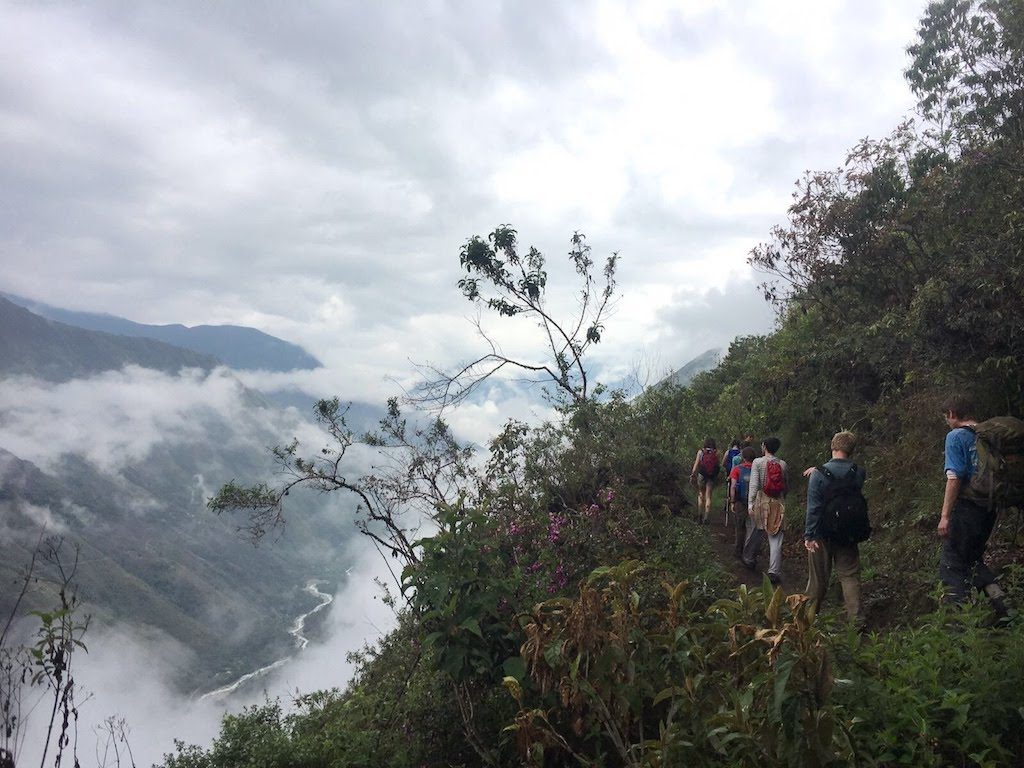 Trekking through the clouds on our final full day of hiking, an eight hour hiking day!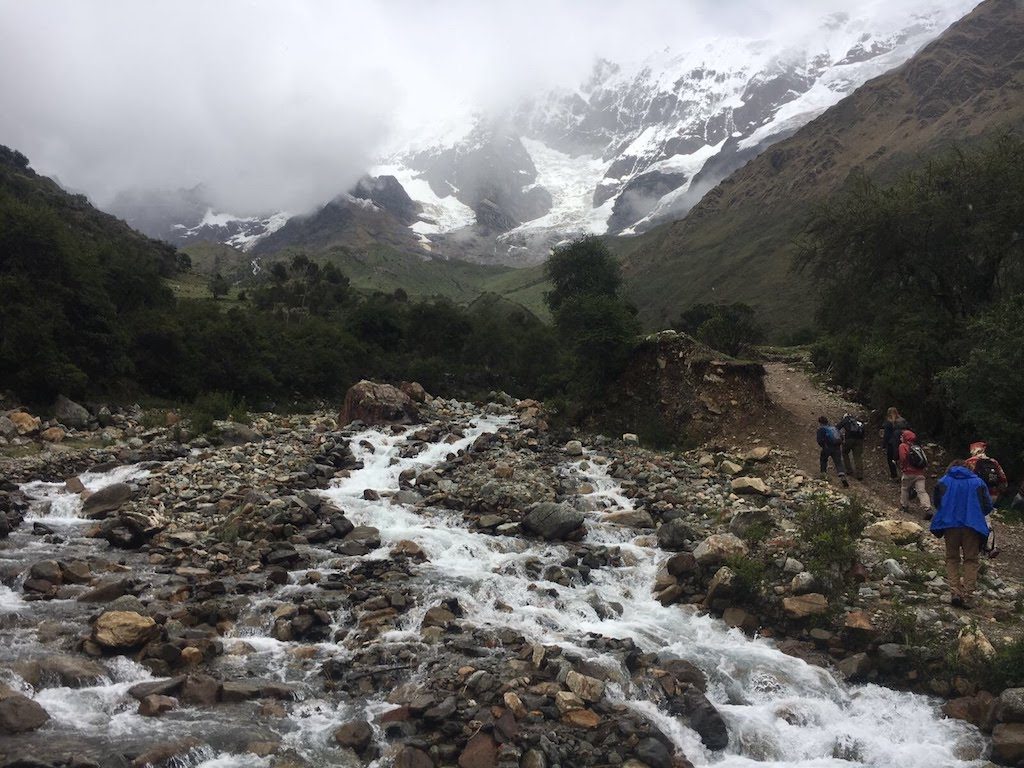 Trekking Salkantay.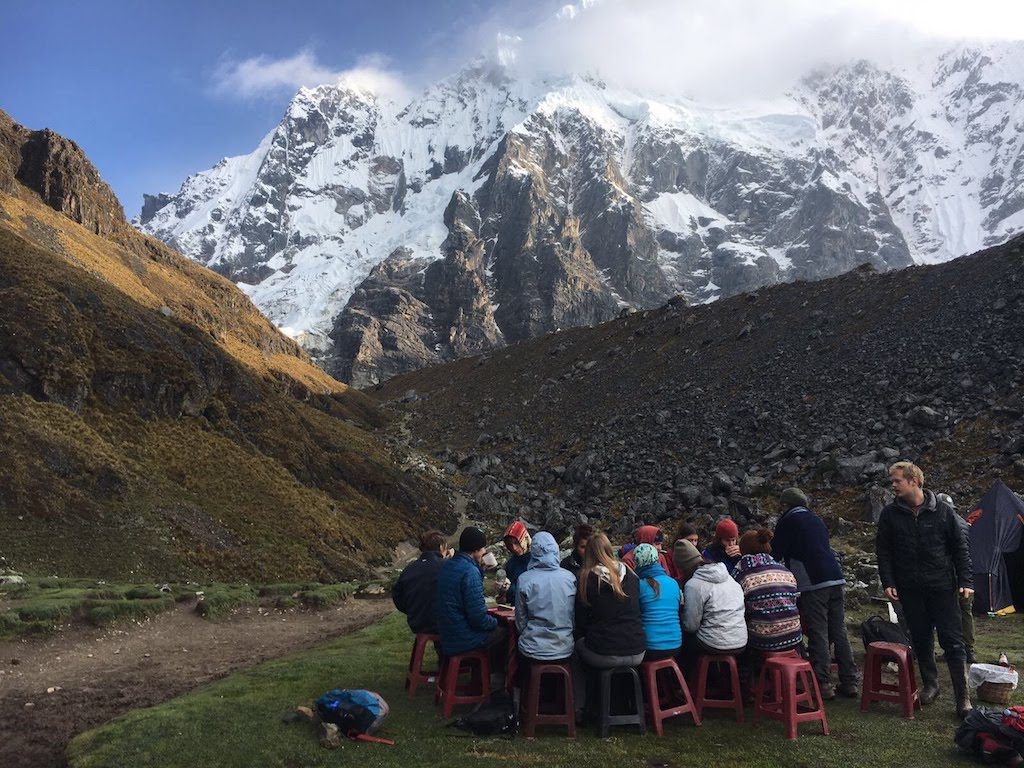 Will takes in the view and the spirit of the mountain pass while resting next to a cairn.