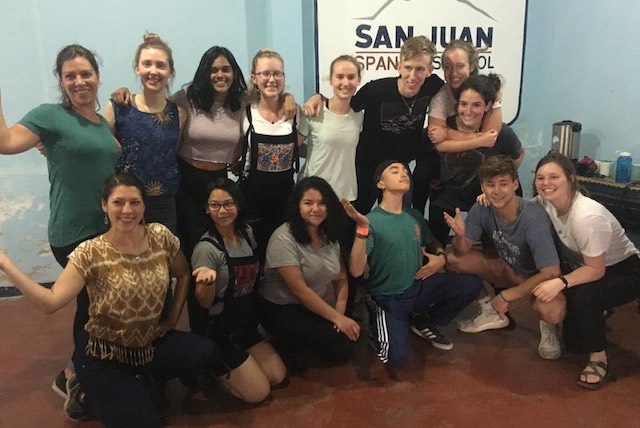 Written By: Alissa and Rachel
Buenos dias from San Juan! Rachel and Alissa here to share with you the adventures of the week! We left Antigua on Monday morning and drove to Lake Atitlan. We got to enjoy a lovely boat ride across the lake to the vibrant town of San Juan. From here, we met up with our welcoming homestay families and went to see our new homes for the week.
Each morning after delicious homemade breakfasts, we all met at San Juan Spanish School for Spanish classes from 8am till 12pm. We held class outside and went on mini field trips to the beach, the pier, and around town. We then got to look forward to a fantastic lunch back home with our families. Some favorite meals include platanos fritos, pupusas, creative vegetarian tacos, and tamales.
In the afternoon or evening we met up for group activities. These included tours of chocolate making, womens weaving cooperatives, a honeybee sanctuary, and a medicinal plant garden and store. We also took two hikes, watched a moving documentary on Guatemalas civil war, and took a salsa class.
Top funny or awkward moments include Disha dropping her favorite ice cream, the water turning off in the middle of Rachels shower, Ismael finally catching a butterfly, and rambunctious little host siblings shenanigans. But, by far the most exciting event of the week was welcoming a new member to our group! Bienvenidos, Serena!!
Adios till next week!