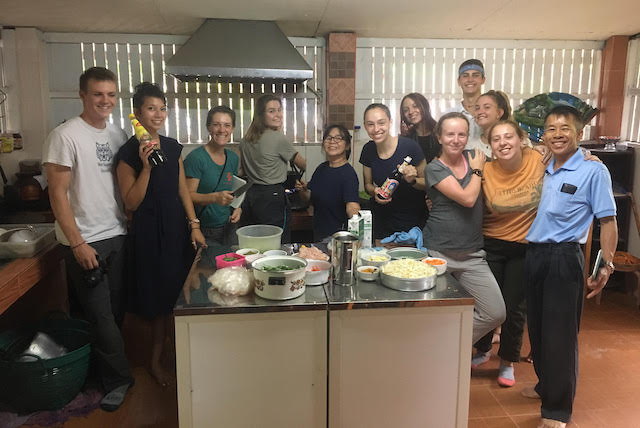 Sawatdii kha!
After one week of Thai lessons, we can hold a simple conversation, but everything starts with this greeting. Combined with a "wai," a short bow with your hands in a prayer position, when you are greeting someone older than yourself, "sawatdii kha" (or "sawatdii khrop," if you identify as male) is the proper "hello" here in Thailand!
What a week we have had! It started last Tuesday, when we split up into one van and one song tao truck (which literally means "two benches" because — you guessed it — there are two benches inside!) to get to Mae Rim, our new home base. We drove to the eco lodge, where we would have our classes, and we immediately began our first Thai lesson with the amazing Ajan Petchara ("ajan" means teacher in Thai). Don't get us wrong: Thai is difficult. There are five different tones (flat, down, up, rising, and falling), which was highly confusing to us English speakers. However, Ajan Petchara is an amazing teacher, and we had a blast learning how to introduce ourselves, how to say our favorite foods and places, and even how to build questions and sentences complete with subjects, objects, verbs, and classifiers! More importantly, we can now sing a very entertaining song about elephants ("choong") in Thai.
Next, we began dancing lessons! After we all tried sword dancing, the girls broke off to learn the traditional female dance with Ajan Petchara. Joe, Harrison, and Lucas stayed behind to learn ten moves (of the upward of 300 sword dancing moves there actually are). At the girls' first lesson, we only learned the foot movements. Essentially, she taught us how to walk in a slow circle and bend our knees to the beat of the music. However, Ajan Petchara quickly ramped up the intensity, and we were soon dancing with huge golden nails (more like talons), desperately attempting to keep up with Ajan's complicated hand movements while not messing up the foot positions! The dance is pretty slow and meditative, but just you wait until you hear about Thai exercise dance — that's another story altogether!
Over the course of the week, we also learned a lot about Buddhism from Ajan Panom, who was a monk when he was younger. He taught us about the core tenets of the religion, the role of Buddhism in Thai society, and the Buddha. We were all excited to learn which Buddha position we have based on the day of the week we were born. Ajan Panom also took us to his temple, which is absolutely exquisite and very ornate. Claire G. began an interesting discussion about the extravagance of the temple in a religion so focused on simplicity, and we spent some time considering this idea. We also participated in prayer, which entails chanting (or, in our case, listening to others chant) and meditating while sitting on your knees for an hour and a half. It might sound difficult, but everyone left wanting to go back and experience peaceful meditation again the next night!
Other highlights included a cooking class, in which Kylie, Audrey, and I tried our hand at pad Thai, while Harrison made khao soi and Kate cooked up pad see ew. Joe, as always, served as photographer, and Sammi diligently wrote down the recipes for posterity. We also made green curry, fresh spring rolls, and mango sticky rice before stuffing ourselves with all the delicious dishes! We also visited a local waterfall and enjoyed swimming and playing in the refreshing water. It felt amazing to escape the intense heat here!
The other part of the week was staying at homestays in three villages within Mae Rim! The Claires, Kate, and Lucas stayed in Baan Tung Haa, while Sammi, Madi, Paulina, and I lived in Baan Bpaa Muong, and Audrey, Harrison, Kylie, and Joe lived the farthest away in Baan Mae Nai. We had bikes to get around the village, and we all enjoyed getting to know Thai families, most of whom spoke no English, and eating home-cooked meals. Our families spoiled us with hugs, kisses, and treats. Some of us even got to go with our host moms to Thai exercise classes, which is upbeat zumba combined with traditional Thai hand movements in a square (we did the moves in one direction, and then kept turning around). All of us who went had an absolute blast dancing with the women of the village, even if we kept turning in the wrong direction only to find the women facing us and laughing! Claire C. also attended a running race that her host dad participated in, Harrison went on a mountain walk with his host dad, and Sammi went to her family's favorite restaurant!
To end our week, we merged our lessons and homestay experiences at a goodbye party with our new families. We began with prayer, and each of us received blessings from our families and from other hosts in the form of white strings tied around our wrists. After that, we had a delicious pot luck dinner, and each of us read a speech that we had written with our new Thai skills. Though our tones were definitely far from perfect, we enjoyed expressing our gratitude to our host families in their language. We also performed our dances in traditional costumes (see photos!) and had a dance party with our host families. Earlier in the day, we had made floating lotuses, known as krathong, out of banana leaves and fresh flowers, so we ended the night by releasing our creations with candles in the pond. This tradition is typically done in November during the Loi Krathong festival, but it was a beautiful way to end a beautiful week.
Now we are in Chiang Rai city for a brief stay before we leave tomorrow to work with the Mirror Foundation in a more rural area of Chiang Rai. We have had a blast so far, and we are so excited for what is to come! Love to all of our families and friends back home! We miss you!
Bryley