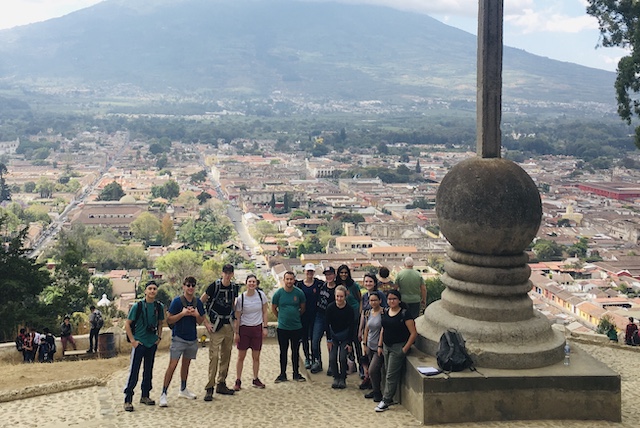 Bathed in sunshine and surrounded by impressive volcanoes, Antigua, Guatemala has served as our introduction to Central America. Laughter, exploring the city, trying new foods, playing games, sharing life stories, and orienting ourselves to our three months in Central America…our first few days in have been jam-packed with activities. Although it's only been a few days, our group has started to take shape and inside jokes have already started to emerge.
Our base has been the cozy Purpose Hostel, and our meals have been provided by the lovely Dona Violeta and her son Fernando. Each day we walk two and a half blocks to their tiny comedor to sample such Guatemalan specialties as pepian, desayuno tipico, pollo amarillo, and chocolate rice krispies (ok, not so traditional on that last one). Dona Violeta has been amazing at accommodating all of our dietary restrictions, as well as giving us advice on things to do in town and putting up with our broken Spanish.
On Saturday we had to opportunity to split up into small groups and explore on our Antigua Scavenger Hunt. Have you ever had to ask someone to borrow their phone and make a phone call in a language you barely speak? It's incredibly awkward. The scavenger hunt also gave some of us the opportunity to meet a few locals, observe a wedding, wander into the Spanish Embassy (!), and gain privileged access into one of Antigua's posh gated communities.
Here are some of our thoughts on Antigua and Guatemala so far:
"I like the challenge of going out and exploring Antigua, and learning how to get comfortable speaking the language."
"The color of the buildings really stand out to me, and I like how bright everything is"
"I could spend hours wandering in the streets"
"The locals are nice and I cannot wait to be able to speak to them"
"I didn't know much about Guatemala, but I have already learned so much about the city and culture."
"I'm enjoying everything Guatemala has to offer"
We are looking forward to our first week of Spanish and staying in homestays next week.
Hasta la proxima.