Last Wednesday we left Antigua. After a short two-hour van ride we arrived in the tranquil beach town of El Paredon. Our week in El Paredon was organized by a social enterprise called La Choza Chula. La Choza Chula is helping El Paredon through a recent increase in tourism. They are providing knowledge and help with sustainable ways of education, enterprise, and environmental protection.
We stayed in an awesome hostel called "The Surf Camp" and it was located right on the beach. Throughout the week we were treated to amazing meals and local soccer games. The first morning we had the opportunity to watch the release of a bunch of baby sea turtles from the local hatchery. We also had surf lessons for the first two days. Some of us picked it up faster than others but riding the whitewater was fun for everyone. Along with surf lessons, we had a week filled with workshops and awesome adventures, including a mangrove fishing tour, turtle watching, and paddle boarding. In between all of these activities we had time to relax in the sun, play spike ball, and boogie board.
But to really capture our week in El Paredon we need some quick, informative vignettes.
Vignette 1: On our second night we were treated to a lovely good 'ole 'murica Thanksgiving dinner with rotisserie turkey, seeded grapes, UTTERLY FLIPPING ANNIHILATED potatoes, and the only pumpkin found in Guatemala (note to Anna and PJ: pumpkin skin is not crust).
Vignette 2: The week also brought two new members to our group. The first was a touch of elderly wisdom and slowness. He was our new Grandpa Katie, having aged 70 years after ankle injuries on the volcano Acatenango and surfing. Never to be found without his walking stick, he arrived at meals no later than 20 minutes late, sitting down with a sigh, and telling stories of the good 'ole days.
The second member was Hermit Jon. Having given much thought the isolated lifestyle espoused by many indigenous and progressive individuals we met on the trip, Hermit Jon made the personal decision to never leave his bungalow. He could only be spotted occasionally on the way to the bathroom, or on a quick jaunt to touch sand once a day. But he could always be counted on to come out for breakfast, to try the first four bites of pancakes, and then to return to his cave habitat, to his books and his thoughts. It's unclear whether these abrupt transformations were related in any way to Jon's illness and Katie's sprained ankle; the only thing we can know for sure is that Hermit Jon and Grandpa Katie's will be missed.
Vignette 3: It was only a couple days after the second surf lesson that Anna and Anya, heading tales of spectacular waves from the Peruvian surfer-dude hostel owner Rafa, headed out to the waves to sharpen their newfound skills. However, it was only 10 minutes before Anya came back in, deciding to take at least a decade-long breather from sizable waves. Anna, seeing Anya overturned sideways and thrown into the open air and then smashed down into the sand by a rogue monster wave, also reappeared at the hostel soon after. Much like other activities that rely heavily on the unpredictable mood of the ocean, other experiences with surfing were mixed. Doug (building off experience in Hawaii) hit the surf multiple days with impressive improvement with popping up in turning, Cate (overcoming sickness) began shredding up the gnar like the next Alana Blanchard, and California boy PJ (with a state reputation to uphold) could be found at most dawns out on the water.
Vignette 4: El Paredon also wins the best new reality prize. It appears as if this town, specifically some of its inhabitants, have done away with the very concept of time. Local tours, like the fishing venture with young fishing prodigy Hector, reliably ran slightly late, and the last day's paddle-boarding mangrove tour was beginning to run slightly late when the guide Juan Carlos pulled the group to shore to show us his personal collection of Mayan artifacts. The three-hour activity turned into a seven-hour expedition into the expansive mangrove. The Mayans may have had the most advanced calendar of their time, but their descendants that now inhabit El Paredon seem to have found a way without such things.
Vignette 5: Most orient prize goes to Doug and local dog Mani for waiting the seven hours alone at the local river port for the paddle-board tours to return.
Vignette 6: a boat tour into the Mangroves brought us feet from the breeding ground of turtles, one of seven locations in the world where turtles can be found year-round. As the turtles came up for air just beside our astounded eyes and cameras it became difficult to distinguish the turtles quick breathing from Tori's uncontrollable gasps of shocks. She's been to Central America, back, and then back again, just to see them, and there they were just arm-lengths away, immobile shell back and all.
Vignette 7: Dylan finally had interesting dreams (after a trip of fairly normal dreams such as driving a golf cart below the speed limit and watching cars pass by) thanks to Doug's led dream workshop. The inception-esque workshop was a group overnight out on the beach patio at the hostel, where everyone journaled about their dreams immediately after waking up. Jillian had vivid dreams of running a wild civilization and committing many crimes (it's unclear what crimes she committed, all she remembered was that crimes were committed), Bradley watched sports with his brother until a knocking upstairs turned his dream into a horrific nightmare, and Jake was commanded to enter a washing machine labeled "men's bathroom." We were all a little more cautious around each other which a glimpse into the plans of our subconscious' (especially Jillian's).
Vignette 7: For the first time on the trip Ellie was found to be unable to smile or offer some form of positive encouragement. This only lasted the span of her brief but intense migraine during which she physically could not talk. Fortunately, directly after she was back to her normal self.
We are coming into our last week now, and we couldn't be more excited for Roatan!
*sorry to Maggie and Bobby Z. for the late blogs*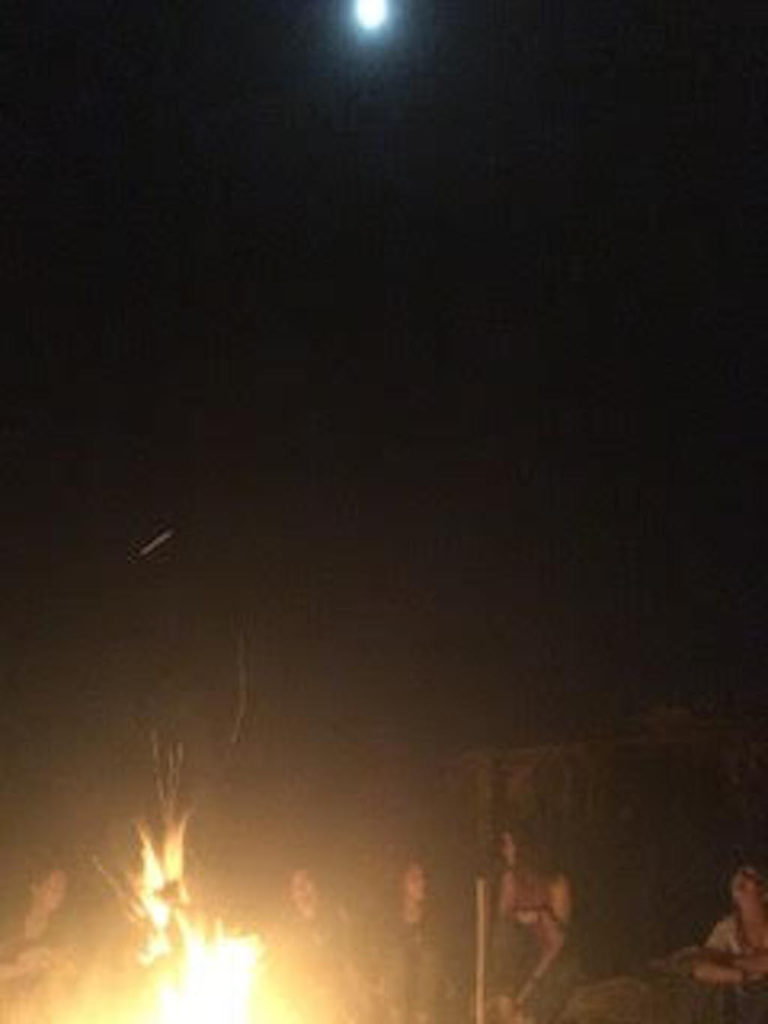 Our amazing chicas: Tori, Ellie, Katie, Jillian, Anna and Cate on our final night beach bonfire.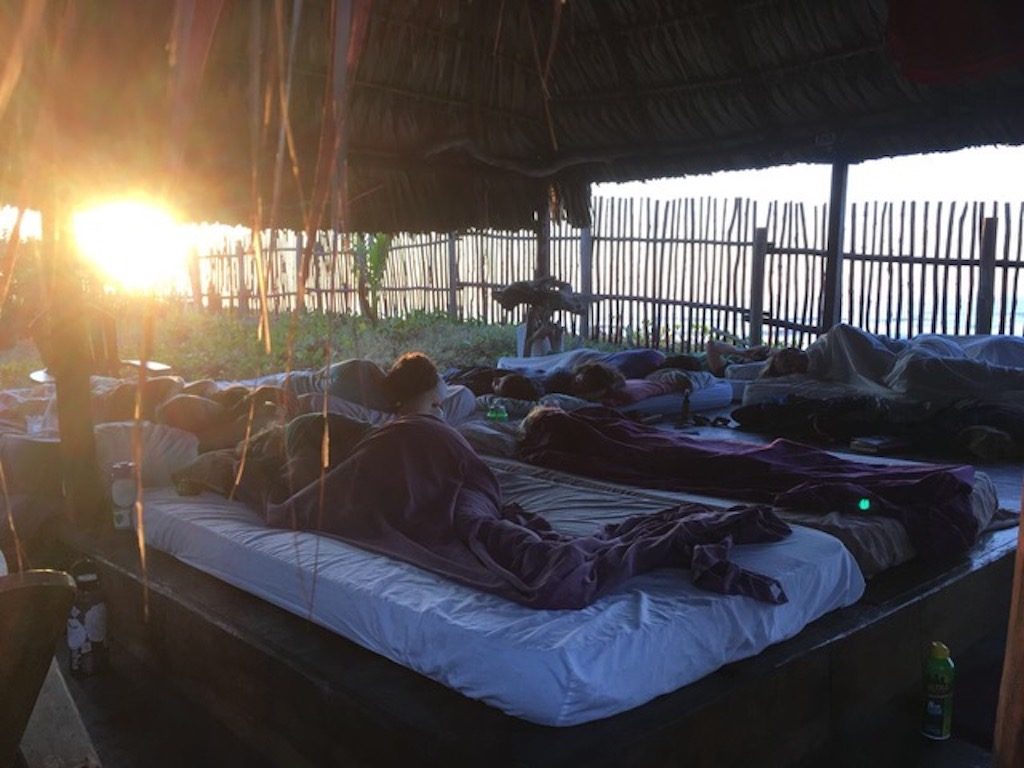 Dreaming on the beach!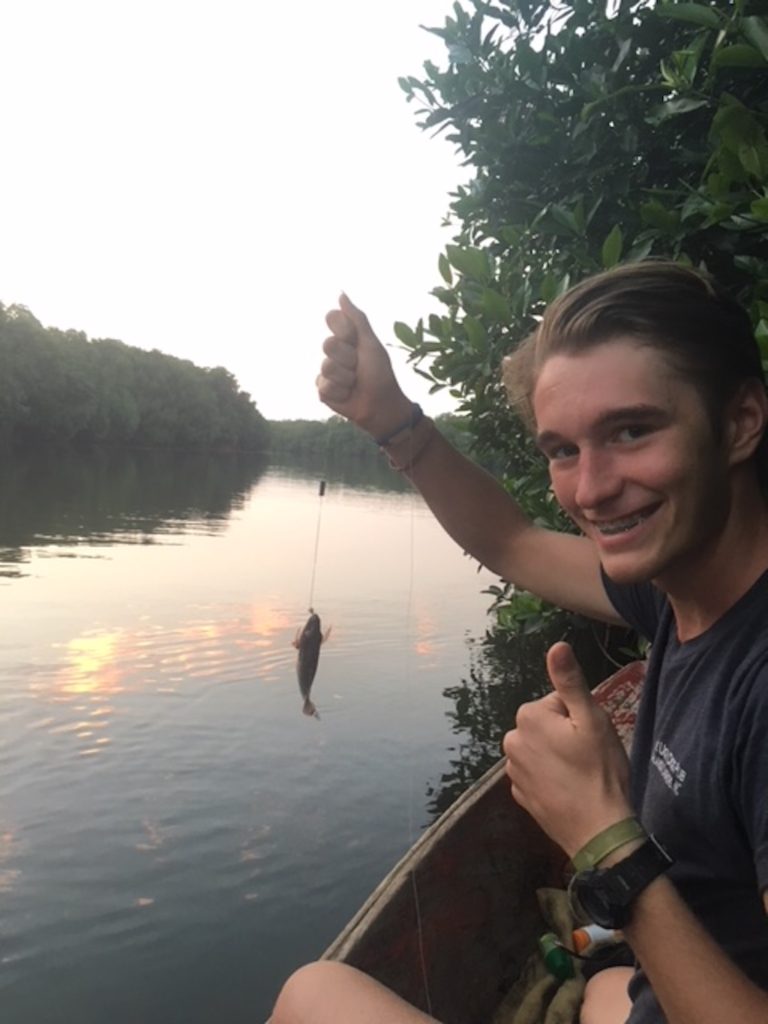 Jimmy with a monster catch.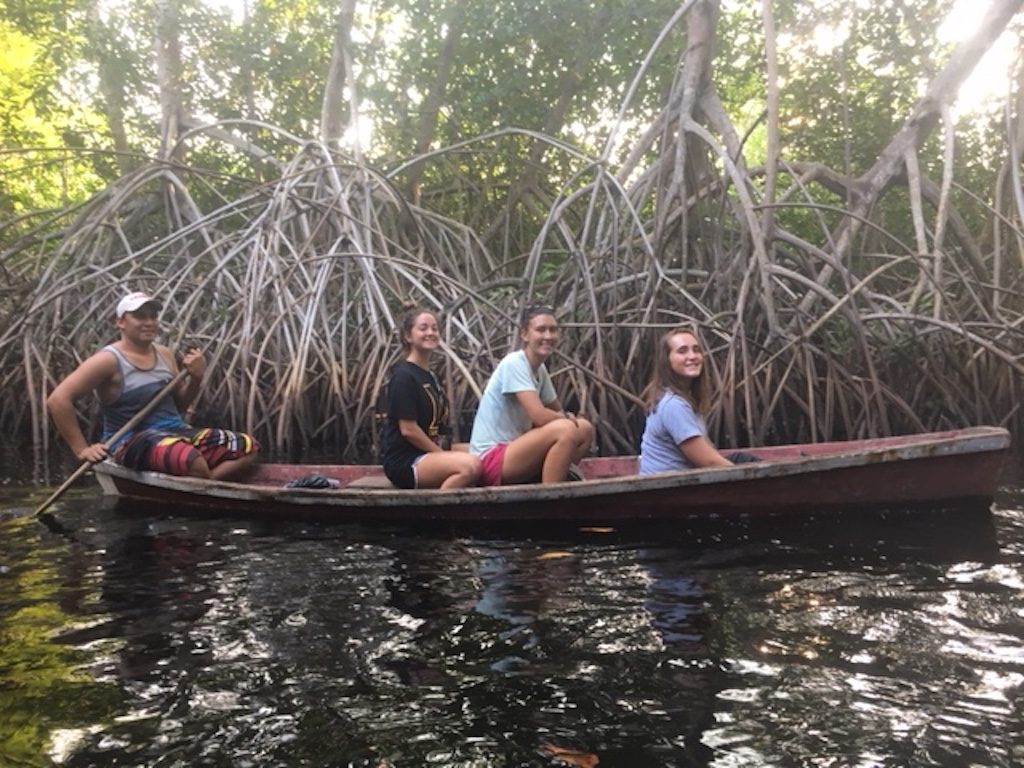 Tori, Anya, and Ellie checking out the mangrove ecosystem.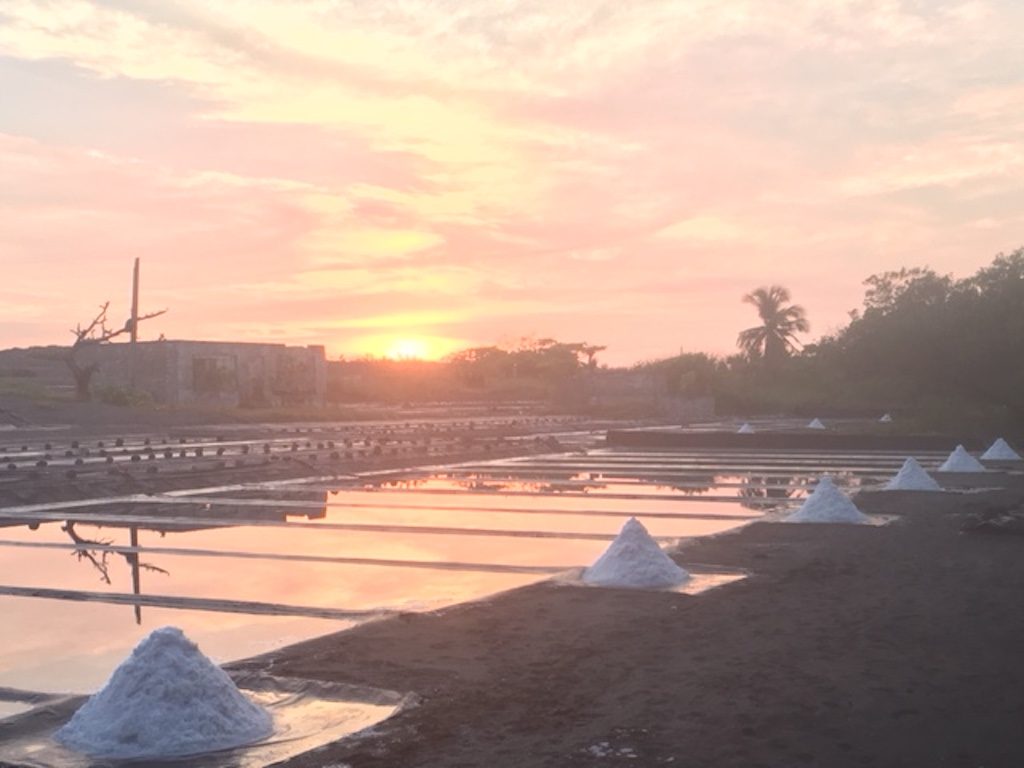 Guatemalan salt fields at sunset.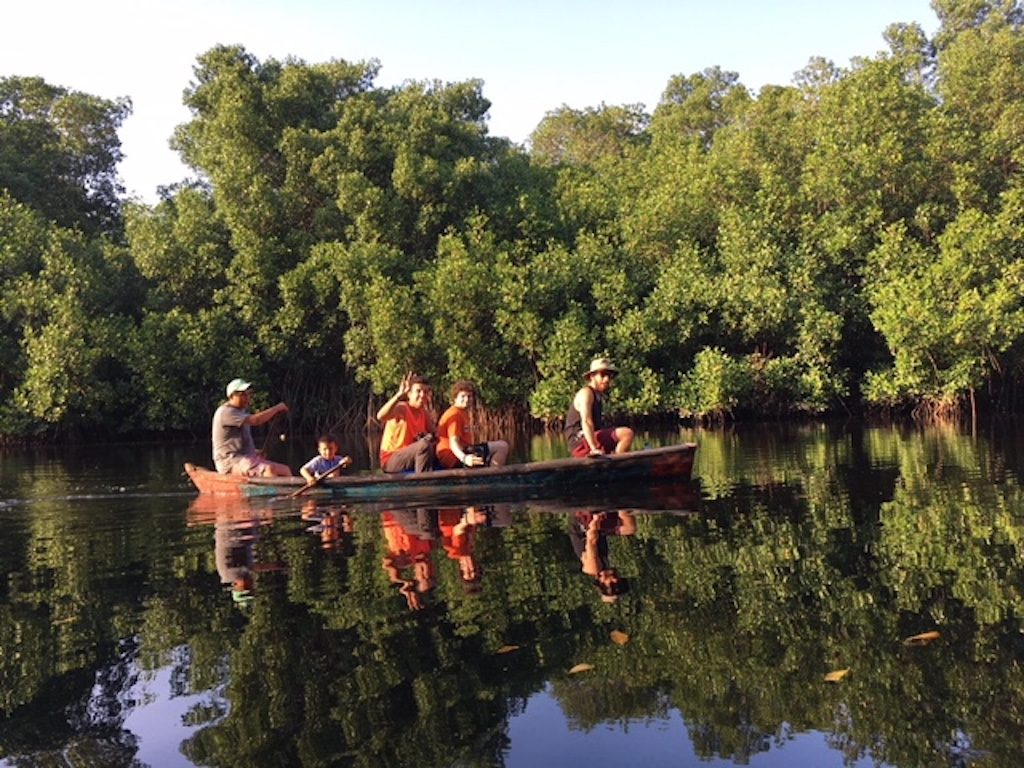 Bradley, Jake, and Juancho (and Hector!) soaking in the mangroves.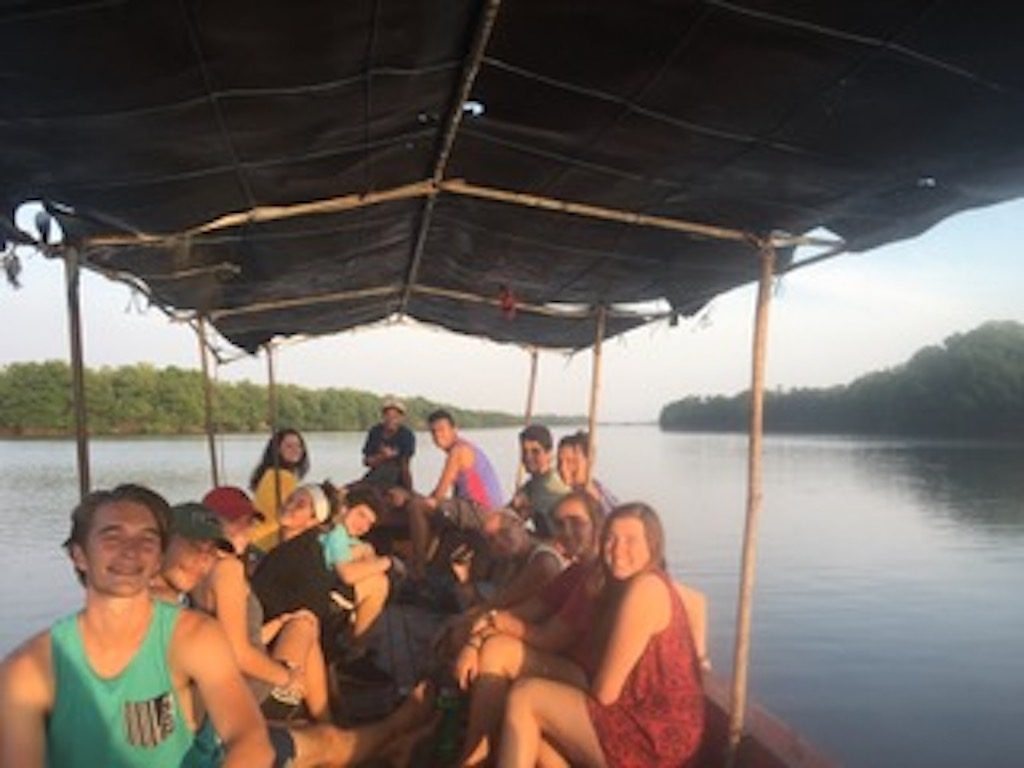 Team Quetzal out spotting tortugas.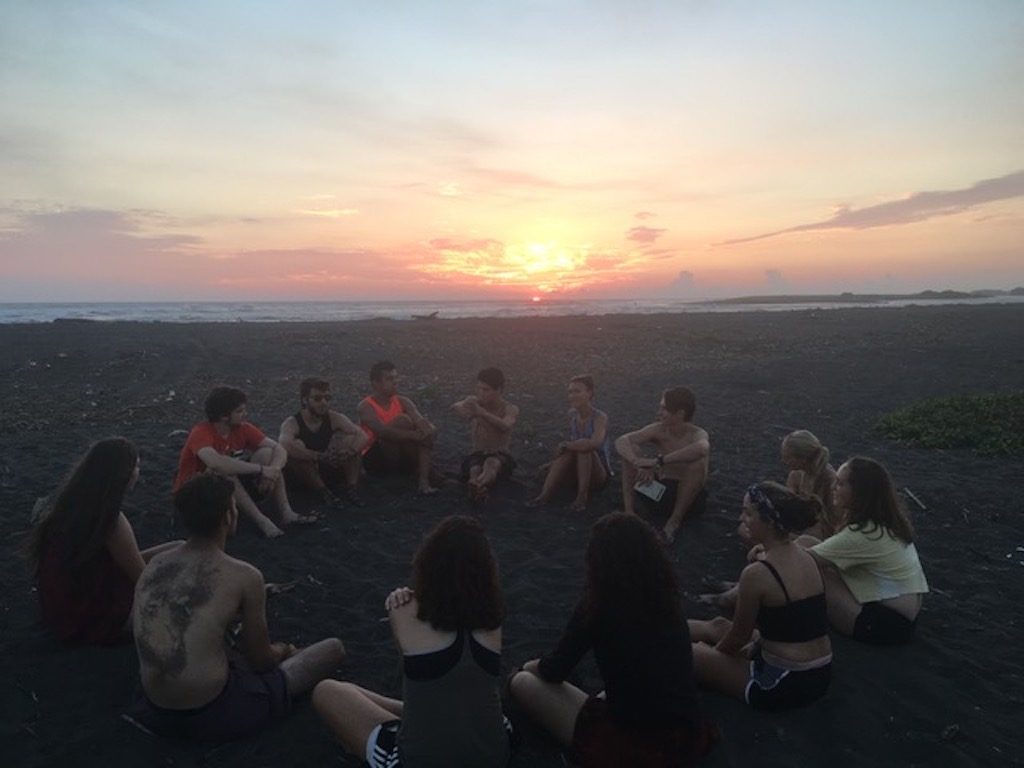 A weekly meeting with a most lovely sunset.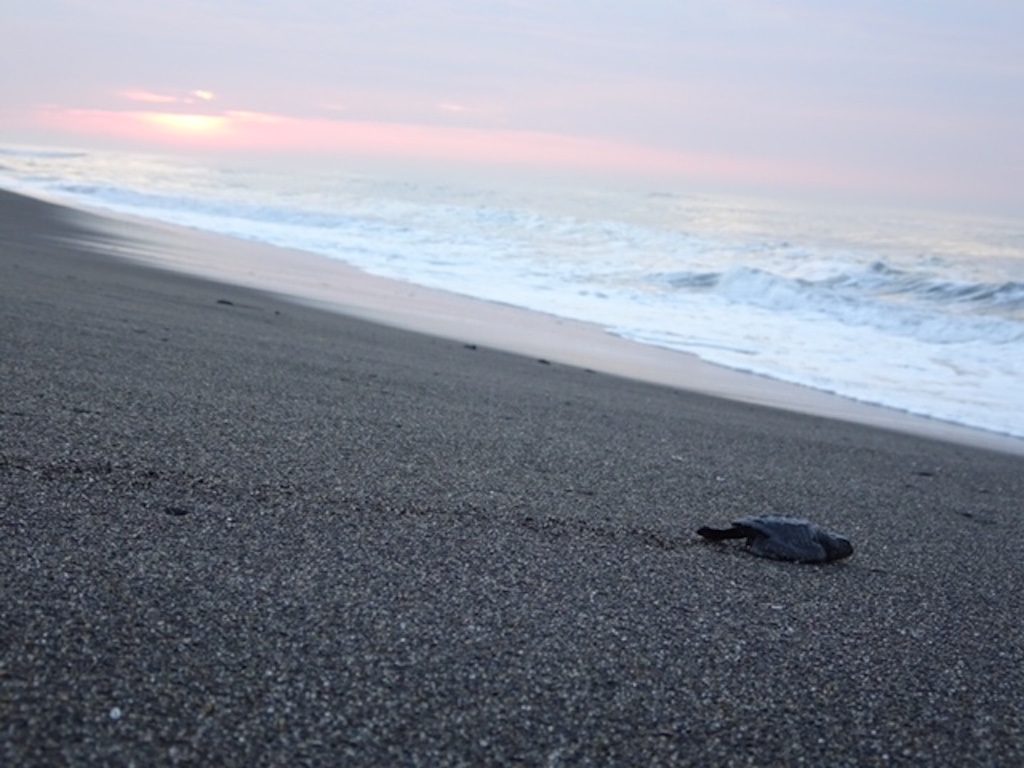 An early morning dash for the surf.