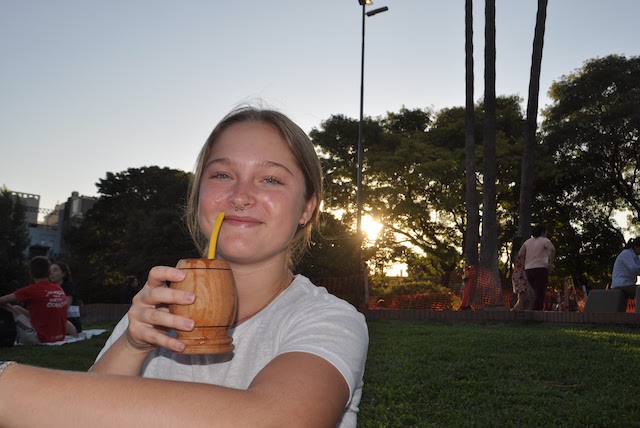 Written By Molly, Latitudes Year '20 Argentina
Selecting a FVP was a long process for me, juggling between a variety of different focuses and locations across the globe. But eventually I committed to teaching English in Buenos Aires, Argentina. From exploring the trendy and historical city to practicing grammar with energetic children, it was an experience that resulted in both unforgettable memories and personal growth.
Let me walk you through a typical week during which I was studying Spanish at Expanish and volunteering at the Springfield School of English. Sunday mornings typically consisted of heading to my favorite cafe, Ninina, that was just a 2 minute walk from my homestay on a vibrant street in Palermo. There I would prepare for the coming week at my placement or just relax and enjoy a good meal. The afternoons were often spent on a walking tour in the city, at a museum, or participating in an activity – asados (Argentinian barbeques) being my favorite! – with the other volunteers that were working with Road2Argentina, which was an organization that Carpe Diem put me in touch with. The day would end, as almost every day did during my time there, with a wonderful dinner with my host family. Meredith, another Carpe Diem volunteer who I lived and worked with, and I shared countless laughs and long conversations with Jose and Estela (our host parents), along with an occasional movie night or dice game called Generala.
Now for the rest of the week. Monday to Friday, Meredith and I would grab a taxi to Expanish for our group classes that started at 9 and ended at 1:30. We would then wander down the bustling streets to pick up our daily empanadas and enjoy our lunch at a park nearby. It would then be time for us to head to the Springfield School of English, which started with a subway ride, then a bus ride, and finally a quick train ride. Quite a commute, but I didn't mind! The school, in Ciudadela, was a small building that consisted of three classrooms. They offered classes of all levels for students as young as the age of 6 to adults. The staff was wonderful and great to get to know, along with the students! We were given a very active role in the classes, assisting in explaining English grammar (which, yes, I did have to relearn a bit of) to correcting the students' classwork. I truly enjoyed partaking in the classes and spending time with the teachers and children! After four to five hours at the school, Meredith and I would head home to another home-cooked dinner with Jose and Estela.
Scattered throughout the week, there would be an occasional activity in which we learned about and made maté (a popular Argentinian drink) with students from around the globe at Expanish, a free tango class to learn the basics and meet new people (also with Expanish), or a visit to a popular restaurant with Road2Argentina volunteers.
To finish the week off, Saturdays sometimes began with a yoga class near my homestay or relaxing in a park with a good book. In the afternoon, Meredith and I would sometimes wander around the city, find fun restaurants or boutiques, or shop around in the large markets that were set up on the weekends. This was typically followed by spending the night dancing with friends we met during our time there! That doesn't cover it all, but those were generally the things that filled my schedule in Argentina.
Don't get me wrong, I had my fair share of challenges, too. Being my first time traveling solo, I experienced loneliness in ways that I hadn't before. Sometimes it was challenging to make new friends or put myself out there, but eventually my confidence was boosted and I was able to take the initiative to meet up with the volunteers and students I had met. I realized that, especially when traveling, many people are very open to, and generally always hoping to, make new connections and share experiences with others. It did take me a little less than a month to really feel settled, but during that time I also learned more about encouraging myself to go out and spend time independently, whether that was on a guided tour or journaling in a park. I am ultimately so glad I got to experience this side of travel and was able to cope with and break past the things that were unexpected or held me back.
Unfortunately, coronavirus cut my trip short by a little over a month. It was sudden to see everyone Meredith and I met head home so quickly and to have the city practically shut down within a matter of days. But on the bright side, the days that I spent in quarantine presented a great opportunity to bond even further with my host family and reflect on my experiences. Thankfully, the supermarkets were still open and I was able to stock up on dulce de leche, too! I'm missing Argentina and hope to return soon, but in the meantime, I'm glad I can share stories about my time there and encourage anyone who is looking for a taste of city life, South American culture, and what it's like to teach English in a foreign country to check out Road2Argentina, Expanish, and the Springfield School of English!