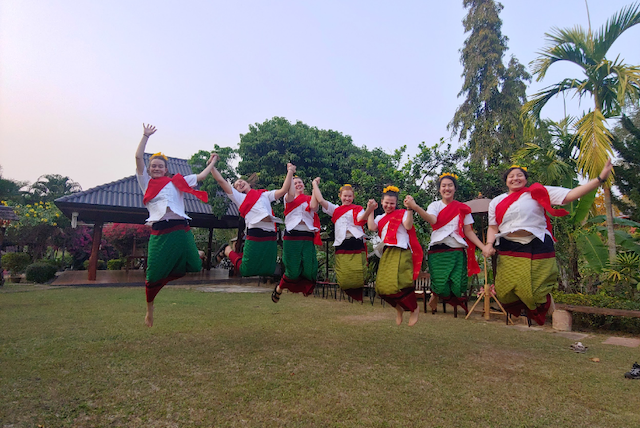 Written By Whitney
Hey friends and family of the hustling and bustling Sabai 2020 group. This is Whitney (Whitneeeeyyy in Thai) coming to you from our first official laundry stop in 2 weeks in Chiang Rai, Thailand.
After an inspiring first week in Chiang Mai for orientation, we packed up our bags from the Sarah Guest House and our lovely Ajarn (teacher) Panom drove us a quick 45ish minutes past Mae Rim to a tiny village named Ban Rai. Right off the bat, we started learning paasaa Thai or Thai language for those who didn't attend school in Thailand from Ajarn Petchara (I'm thinking most of you). We started out with learning the five tones, which sounded more like a music class than a language class, with us filling the room with "gaaAAA"s versus "GAAaaa"s.
After a lunch of the very popular Pad Thai, we started our dance classes. We soon learned how complex the Thai dances were, everyone starting with the ladies dance, where combining the hand and feet motions was equivalent to patting your head and rubbing your belly at the same time. Paff split off from us eventually, learning the sword dance instead of the fingernail dance (very intellectual names I know, came up with them myself).
As our form of exercise/ transportation, we rode some, you could say, questionable bikes around. No accidents from those but some were lacking some very crucial bike functions. Shout out to Miku and Daniella for making a trek everyday to get to their homestay families, beautiful but you really don't know hills on a bike until you've done this. The homestays, though nerve racking for most of us, was a great experience. We started with antsy smiles as the group dropped us off, but we would meet up the next morning with so many incredible stories. I know for one, Rosalba's deck of uno cards was plentifully used with her host family. We would also have a little show and tell of the goodie bags our host moms would pack for us on our way to school and share them around, trying to guess what all the interesting looking snacks were. McKenna would always show up with some strange flavored Lays™ and Jordan got a cat pouch that her mom would refill with candy.
Some other forms of important exercise included off-brand Zumba with the moms, back road bike rides with the red heads plus Rosalba, some impromptu 5-minute ab workouts, Paff leading us in some yoga and meditation, and of course, flexing those finger muscles in endless games of cards. We took a trip to the Huay Teng Tao lake on a crazy hot day where we got some refreshing swimming in, the highlight being Fields' "beautiful" swan bellyflop.
Wrapping up the week, combining everything we've learned in just 5 days, Ajarn Petchara and Ajarn Panom hosted an amazing, traditional Thai ceremony. Earlier in the day, we made decorative boats out of banana tree trunks and leaves to place a candle on and send off in the coi pond (don't worry, no fish were harmed). We then got dressed up in a whole attire consisting of long skirts, a button up shirt, a red sash-like wrap, yellow flowers in the hair, and of course, the Tivas™. After a potluck of classic Thai food and some not-so-favored pig's blood pudding, us students showed off our minimal Thai that we had learned in a speech thanking our families for an amazing week. We then joined some professional dancers and showed that we could keep up with them (kinda). And after a send off of our banana boats, we ended the night, grateful for the week we had just had.