Written By, Mari, Leila, and Eli
Hey guys, it's Mari! Leila, Eli and I were the captains this week and I'm here to tell you all about what we did! For our 4 day captainship, we went back to the Hacienda Corona Bed & Breakfast to celebrate Thanksgiving with four relaxed days.
11/26: Thanksgiving Day!
This morning we all woke up refreshed after sleeping in, and super excited for the day ahead. We began our late morning with a light breakfast of life cereal and strawberry honey bunches of oats to hold us over 'til the big feast. Freya and Jacob tricked the group into thinking the whole meal was vegan (but to my disappointment, it was a joke). After a quick group meeting, we began cooking our elaborate thanksgiving menu:
Steak by Jacob
Sweet potatoes by Freya
Brussel sprouts by Rachel and Kerri
Lily's famous salad
Mashed potatoes by Eli and Lily
Homemade cranberry sauce by Leila
Gravy by me and Elsie
Leila's family's stuffing recipe
Fried turkey, candied carrots, and sparkling juice by our host family: Nisa, Jeff, Mina and Rayne
And for dessert:
Pumpkin pie by Eli
Chocolate pie by Kerri and Rachel
Apple crisp by Petar and Freya
And a killer nutella pie by Mina
There were many highlights from the day but a moment that sticks out is when a chicken got into the house and managed to step in Eli's freshly assembled pumpkin pie. Not sure which was funnier, Eli's reaction or Sophie's attempts to shoo the chicken back outside. Jeff said this was the best thanksgiving food he's ever had! After stuffing ourselves to maximum capacity, we had a concert where Petar played his original piece on the piano, Kerri and Leila sang, Jeff shredded on the guitar, and Rayne played the drums. Finally, to end a wonderful night of thanks, the girls had a fun dance party, dj-ed by Mina and Jeff.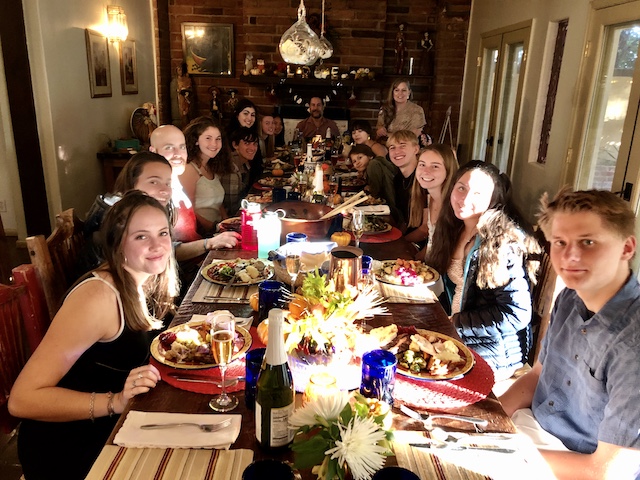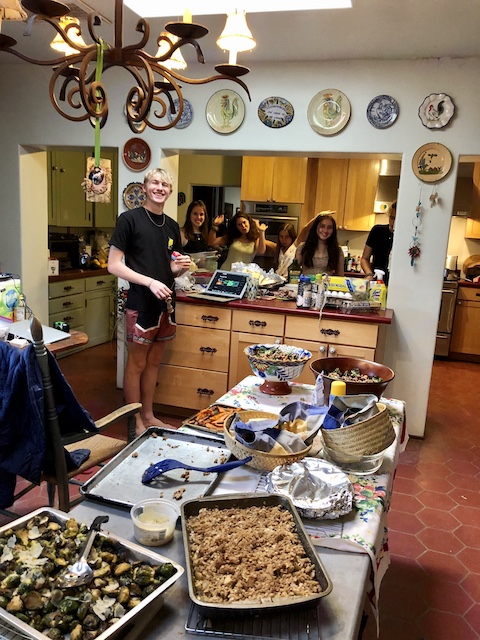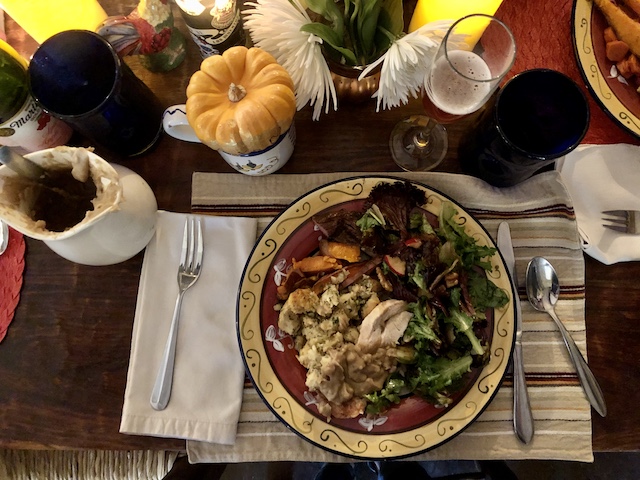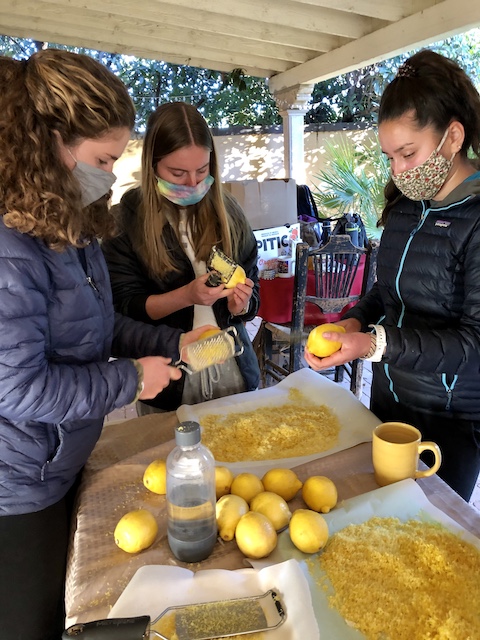 11/27: Refugee Presentation 
Today, after a breakfast of migas, Nisa's friend Barbara came down from Tucson to talk to us about her organization Ishkashita, which works with refugees from all over the world to help them build a life in the United States. She was accompanied by two refugees with whom she is working, who told us a bit about themselves and their stories: Coney was originally from Cameroon, where he had been wrongfully imprisoned for bringing solar energy to his village, an act that the government deemed defiant because it lessened the village's dependence on the government supplied electric power. Coney passed through eleven countries to get here to Arizona. Kaditski was from Eritrea and feared for the safety of her three sons due to the growing war around her home and the countries dependency on child soldiers, so she first fled to a refugee camp in Ethiopia, eventually making her way to the United States.
11/28: Thrifting and Zumba
Today we started our chill morning with delicious frittatas made by Leila and Freya. Then the group went thrifting in Nogales at the Buffalo Outlet. After learning about sustainability and conscious consumerism over the past few weeks, we've all decided to be more conscious about where we shop and many of us want to thrift more often. We had so much fun doing a little fashion show in the store, modeling all our outfits to each other. It was the perfect activity to loosen up for the day and just have some fun. Lily bought the coolest white jumpsuit and Freya got some new denim shorts!
We came home to find that Petar had been cleaning the kitchen all morning, and we were so surprised and thankful for his thoughtfulness. After some beet salad for lunch, the group did a super fun virtual zumba class, led by Freya's mom! To finish the night, we had a nice meal of chili mac and cheese and corn bread.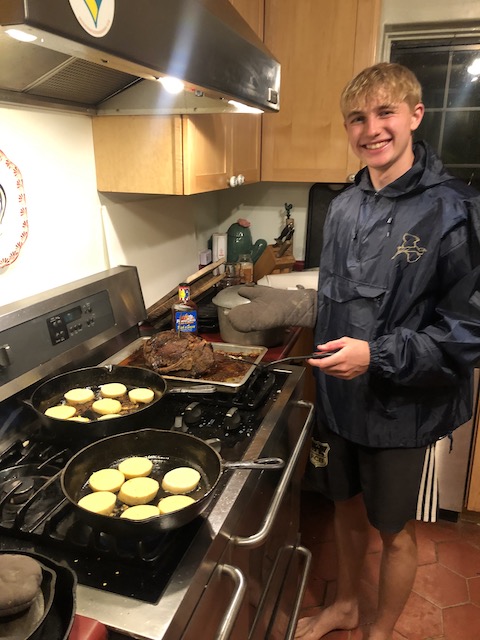 11/29: Our Last Full Day at the Hacienda Corona
This morning Kate made us a delicious sugary breakfast of cinnamon rolls, galette pastries and pumpkin chocolate chip bread. Elsie, Sophie, and Rachel were so excited to wear their new thrifted outfits today. For lunch we had loaded vegetarian nachos with some of Jacob's leftover chili. After eating, Sophie, Adam and I went grocery shopping to prepare for our final week at the Dharma retreat. We had to be quite creative picking out meals in order to use up as much of our leftover food as possible– it was definitely a challenge, but a lot of fun.
Earlier this morning, we hung out for a bit on the lawn; Sophie cut Leila's hair while Elsie read and Eli, Lily and I chatted. Simultaneously, Kate and Kerri drove back down to Patagonia to drop off some extra stuff that we could store for the next semester group at the Borderlands Restoration Network. Once we arrived back at the Hacienda, we unloaded our food and began organizing the bins to pack up for when we leave tomorrow morning. For dinner we ate polenta, salad, and a masterfully cooked pulled pork by Jacob. Following dinner, Kerri, Freya, Leila, and I danced in the kitchen while Sophie and Jacob played monopoly with Mina and Rayne, and Rachel, Lily and Elsie worked on our semester video (it turned out incredible).
That's all for now. Tune in next week to hear all about our Dharma Meditation and Mindfulness Retreat.