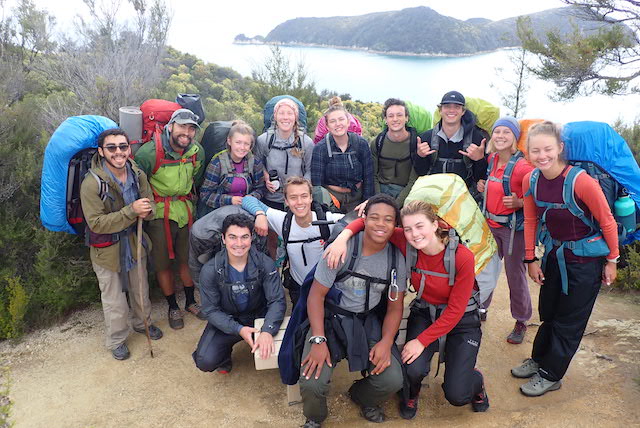 Kia Ora. Hello everyone, it's Jackson and Trish and we are so excited to have the opportunity to blog for you all again. Tonight we have the official changing of the guards which means that tomorrow we will have new jobs and will no longer be the group bloggers. I know we only had the opportunity to blog twice but I am so happy we have been able to give you these updates. Our lives as part of Hongi Fall 2019 have been action packed since you last heard from us and we are so excited to share with you. Our last blog came from The Palace Backpackers hostel in Nelson where we had a few days off to get oriented with life in New Zealand. Some of the highlights of our days there include:
– Fresh free pastries delivered each morning by our hostel host Dave
– The New Zealand Sunday market with fresh fruit and second hand items for us too poke through
– An incredible hour long yoga session with the entirety of Hongi 2019
– A few relaxed days to message home, mail overweight items back to the states and do some shopping for snacks.
On Tuesday morning we got up early and once again had our classic breakfast of toast, fresh fruit and pastries and packed up to leave. It was finally time to head out of Nelson and start our first big activity of New Zealand: Whenua Iti. That would mean thirteen days out of contact as well as thirteen days of outdoor education and… sleeping outdoors in the rain, frost, and freezing temps! Our first day was filled with adventure. We met Rob at about ten in the morning and made our way to Pupu Springs, the home of some of the clearest water in the world and a beautiful nature reserve for the Maori people. As sad as it was that we weren't able to swim, we were much more appreciative knowing this natural spring has been preserved since 2007. From there we got back in our luxuriously spacious bus and made our way up to the Whenua Iti compound. Without much thought to it, we put our packs down and hit the ground running. Our first activity was the high ropes course which was an amazing and a challenging experience for everyone regardless of their experience level.
Jackson's POV: I loved the high ropes course and had an amazing time. I had done some similar things before but not in a while and it was very exciting to get back up there even despite my fear of heights. I was happy to climb as well as belay others.
Trish's POV: Before seeing the ropes course I was honestly super excited. Then we walked over to where the course is and my excitement instantly turned to fear. I have always been afraid of heights and in the past year I have worked on overcoming that. Well I guess this was a lot higher than I even expected. My belay team was Toren, Noah, and Alec. I don't know why I was so terrified of it but climbing up the ladder and feeling it shake instantly made me freeze. One of our educators here at Whenua Iti, Gilby, kept encouraging me to push myself higher up the ladder. I got myself onto the log in the air before coming back down but I did it! I am super proud of myself and I learned how to belay which was amazing.
After that amazing experience we began to wind down for the evening and had our evening discussion about the three days of tramping ahead. Our discussions of packing and trekking with so much weight was slightly overwhelming but the excitement was building. After food separation and final packing we sat down for dinner and then quickly retired to bed to prepare for the days ahead. Sleeping outside in sleeping bags in the -6 degree Celsius weather was not the most comfortable but it properly prepared us for the hike ahead. Wednesday was the big day!
We woke up, had some breakfast, packed up and headed to our first campsite at the Abel Tasman National Park. We set up our rain flies and explored the beautiful sunny coast before an intense CDL (Carpe Diem Lesson) about feedback involving group dynamics. Played a fun group game and then had our very first camping meal of bean heavy nachos…. Made for a very smelly night in close quarters (Thank you, Alec).
The next morning started with a beautiful sunrise on the beach and a Maori cultural lesson on the meaning of "aroha," a Maori term that translates to "love." Then came the 2 hour trek to beat the tide and get across the bay for breakfast. I (Trish) struggled with the first few kilometers being completely new to hiking but the group was absolutely amazing and supportive. For the first few hours all of the guys alternated with my pack on their chest and their own on their back.
We barely made the crossing in time and had to take our shoes and socks off to wade through the freezing knee deep water. It only made us appreciate our warm breakfast of Muesli even more. We then trekked the next beautiful 17.2 kilometers all the way to Bark Bay, our next campsite. The rain storm that quickly rolled in made for a hectic evening in setting up rain flies and preparing to sleep but through group determination and a positive attitude we set everything up.
Due to brutal chaffing, Trish headed to the next campsite via a beautiful water taxi (and Sarah!) and the rest of the group set off on 12 more kilometers of hiking to meet them. The views once again were stunning and the weather held off for a great day of tramping. The group even got to stop at Cleopatra's Pool, a watering hole and naturally-formed water slide. Only Toren, Alec, Sophie and myself (Jackson) took to the cold waters. We all thoroughly enjoyed it though.
Our next campsite, despite the sand flies, was extremely convenient due to our large accessible fire pit, communal camping area and good trees for our rain flies. Our night once again was filled with fun campfire talk, great food and some chopping wood. Our next 12 kilometers seemed to fly by, even with the rain that blurred our views and wet the trail. Our sore bodies were exhausted and very excited to see Gilby and Trish at the end of the trail. Our short bus ride was much appreciated as we all quickly fell asleep. Cleaning up and returning gear was quite difficult due to our exhaustion but looking back on our trek we all recognized how great of an experience it was.