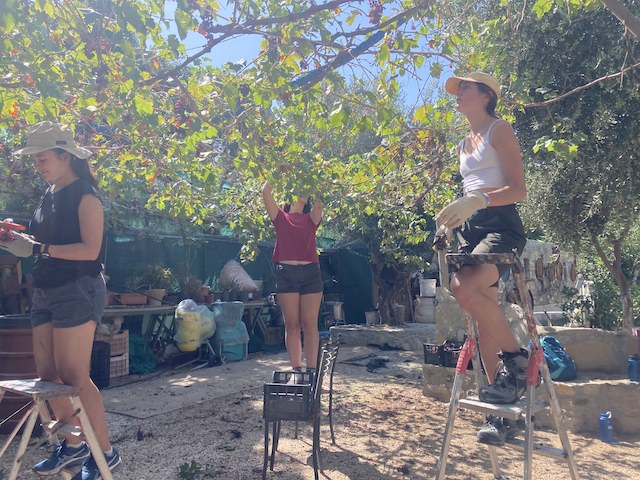 Written By Chloe & Kai
Hello from your group leaders for September 22nd through September 29th, Chloe and Kai!
We kicked off this week with an incredible day trip to Chryssi Island. After frantically rushing to catch our boat ride, we enjoyed a sun-soaked voyage over unimaginably blue water to the island. The whole group was wowed by the white sand beaches and crystal-clear water, and some of us snorkeled for the first time! On the ride back, we also had the chance to jump off the boat and spot a few lion fish with our new snorkeling gear/skills. (Thanks, Xeno!) Our day wrapped up with a delicious dinner of rabbit, mashed potatoes, beets, and salad at the village's taverna, followed by a competitive game of Empire/Families.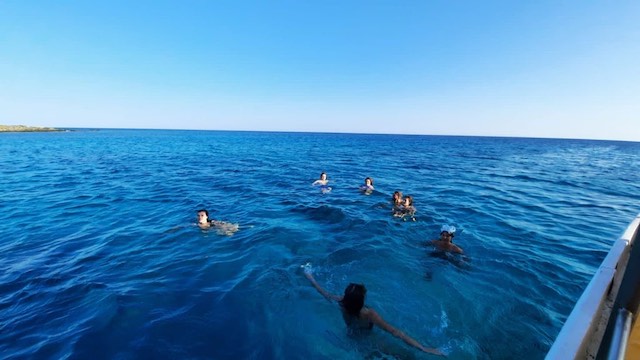 On Thursday, we had our first day of Greek lessons with Maria. We learned the Greek alphabet in addition to a few practical phrases as we sipped on Greek frappes and grazed on tea biscuits. After another delectable taverna meal, we headed to a animal sanctuary to aid in the release of four wild vultures. While there, we also had the chance to meet the local vet and hold several five-day-old puppies. After returning to the village for dinner, we engaged in an epic session of composing and performing our own (unconventional) Greek tagged. Kenzie and Vivi, our playwrights, also doubled as excellent directors, respectively, of the chorus/dancers (which included Liam, Chloe, David, and Kai) and the actors (Aidan, Clemmie, and Alex).
On Friday, we started the day off with another session of Greek lessons with Maria. The last hour of our lesson turned into a crash course on Greek history, which we followed up by learning several traditional Greek dances from Maria and Xeno. In the afternoon, we had the privilege of chatting on Zoom with an Archaeobotanist named Carly. She taught us about ancient ruins on Crete, as well as the effects of climate change on the Minoan civilization. Next, we went on a very windy but exhilarating hike up the rocky mountains behind our village, and when we reached the top, we enjoyed freshly picked almonds along with a gorgeous view. At the end of our night, we gratefully filled up with some warm traditional wheat, goat milk, and tomato soup. The final touch on the night was our entire group all nestled up to stargaze on the balcony.
We jumpstarted our Saturday with a bountiful brunch made, once again, by the G.O.A.T., Christina! The group enjoyed fried eggs, tea biscuits, freshly squeezed orange juice, fresh fruit, and ham and cheese sandwiches, plus our very first sampling of Greek donut holes covered in honey and cinnamon. We then embarked on a Xeno-guided expedition to archeological sites and Crete's famed ancient olive tree. Following this, we went on a strenuous but rewarding hike through a boulder-filled gorge, during which the group did a wonderful job of cheering each other on as we scrambled up slippery rocks. Next, we paid a visit to an iconic beekeeper, who gave us an eye-opening presentation – one we'll never forget – on the impact which climate collapse is having on bees, as well as bees' incredible natural intelligence. Finally, we sat in on a unique lecture by Alicia, one of the village's original revivers, on her worldview as it pertains to climate change.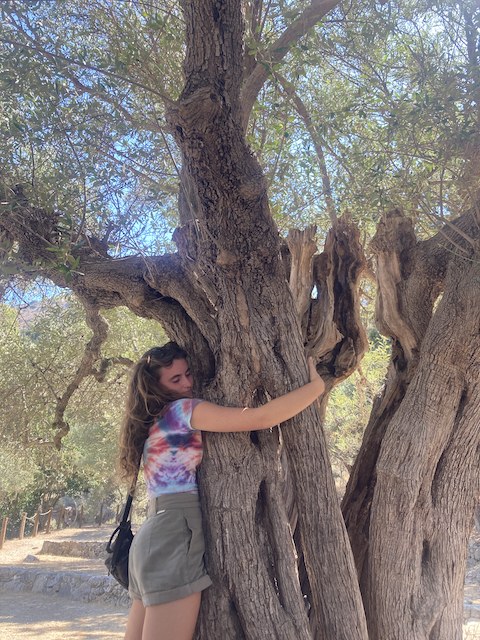 On Sunday, we celebrated Mackenzie's 20th birthday (!!!) with a delicious brunch hosted by herself. We then took a trip to the city of Heraklion, first stopping by the archaeological site of Knossos Palace. We bought Adam a fedora as a replacement for his previous hat, then got a bite to eat for lunch before splitting up to explore the city further. Upon arriving back at the village, we gobbled up another one of Christina's amazing dinners, then enjoyed a chocolate-banana birthday cake for Mackenzie and gave her her birthday card and presents.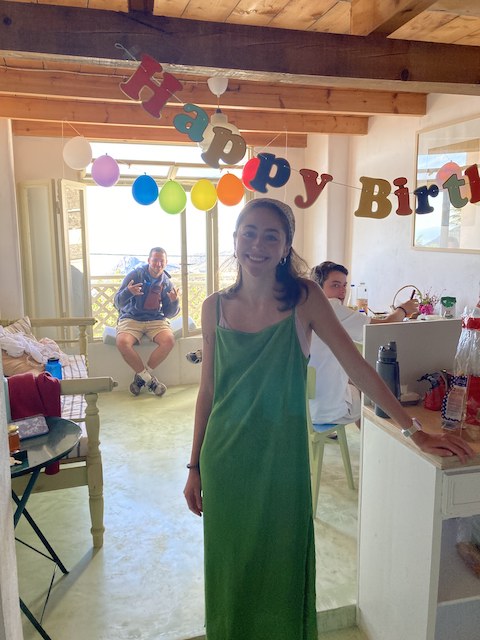 Monday began with us driving to the Vion Vasselion farm and meeting the larger-than-life farmer Vasili and his lovely family. We were treated to Greek coffee and pastries before taking a tour of the farm, during which we tasted fresh-off-the-tree jujubes, goji berries, figs, and early-ripened pomegranates. After this, we hand-harvested olives, then participated in a bread baking class where we made our own savory barley-carob bread and a sweet raisin-fennel seed bread. We were served a huge and extremely satisfying lunch by our incredible hosts.