By Matt Harmon
Hola a mi Carpe Diem Familia!
We started this week with WAVES (Water, Adventure, Voluntourism, Education & Sustainability) in Lobitos, and ended in Cusco with Eco Yoga Inbound. Our final two days with WAVES was full of magic and lifelong memories.
On Monday, we woke up at 6:00 am to go out fishing with locals. This wasn't just any ordinary fishing, we were one with the line, using our hands to cast and reel in. Gripping the line with our hand, and not using a rod, allows for a closer connection, and feel for the fish. The fisherman we were with had scars on their fingers, scars that they were proud of, proving their skill and experience.
There were about six of us in a boat, and we all huddled around in the center cockpit. The swell was big that day, so we were rocking pretty heavily out in the open water. We motored over to check out the petroleum drilling sites in the water, where there must have been forty sea lions chilling up on each platform. One group whistled to get them all to jump off and then proceeded to climb on to explore the site. They returned that day with passionate stories about their experience.
The fisherman then found the best spots to drop anchor, which bewildered us as to how they decided it was a good spot. Once the anchor was dropped, we all focused our attention on the fish they were cutting into pieces to be used as bait. We were rocking back and forth, and you had to stand up and rock with the boat in order to not get seasick. Our fisherman's name was Luis, and he is really good at what he does. He was reeling in fish what seemed like every 10 seconds, meanwhile, most of us could only catch 1-3 fish in totality. It was a very frustrating experience for me because I swear I felt like I was doing the same exact thing he was doing, but not catching fish… on the contrary, Brian caught about 7 fish; he was killing it in the back of the boat, likely taking secrets from the old fisherman.
We caught some extravagant fish as a group; a blowfish, an eel, and these red Incan spiky fish that we were told were "peligroso", for if you got pricked, you would get a fever for 24 hours. There was also this mini bass-like fish that we caught; this was the best fish for eating. They told us that the fish used to be twice as big not so long ago. The industrial trawling in the area, killing mass amounts of fish (and sea turtles as well) to be exported internationally, has caused the fish to decline in size and quality for the locals.
Once our bucket was full of fish, we began the process of making ceviche. We skinned the fish, putting all the valuable meat into a metal bowl, which was filled with salt water. The salt water, with the juice of the lime that we squeezed, causes for the raw fish to cure, making it ok for us to eat raw. We cut up onions to put into the ceviche as well. As you could imagine, this was the freshest ceviche we will likely ever have, and there were no leftovers. The fish that we had cut up were in a pile towards the edge of the boat, attracting hungry birds. We saw a sea lion swimming nearby, so we threw a fish into the water, and watched him swim under the boat and up to grab the fish, fighting the birds for it. We also threw fish up into the sky and watched as birds caught, and fought for the fish in the air. As we were motoring back, we had a sea lion swimming by our side. We dropped fish in the water for him to eat and threw fish parts up to the birds hovering over our boat.
The next day was our final day in Lobitos. Lauren, Julian, and I got up at 5:30 am to go surfing with the amanecer (sunrise) before breakfast. We then worked on the community mural for the whole day. A highlight of the day was Will, who picked up little kids with paint on their hands in order to make handprints as leaves of a tree. That afternoon, some of us left to have our final surf lesson, and the rest continued on with the mural. We finished it, and the result was a beautiful masterpiece.
The purpose of the mural (see prior blog photos) was to clean up a dangerous trash-filled area in the middle of town, where kids often jumped in to retrieve balls or out of curiosity to explore. The location was so bad that people just assumed it was a dump and would throw their trash into the area. We constructed a wall with bamboo posts around the abandoned property and put up big boards to paint on. It was a community project, with music playing, and everyone having a good time, not stressing about a thing. It felt really good to paint, and be ourselves and not have to worry about messing up or worry about it being bad. That being said, we had made an intentional sketch of the mural that evolved as the paint went up.
That night we had a very special goodbye dinner with WAVES at their headquarters. Brian, Claire, and I built a little log cabin fire, where we all huddled around listening to music. Will, Naomi, and I skated on the halfpipe, showing off our tricks. The dinner ended with a wonderful slideshow from the week that one of the volunteers put together from her photos and goodbye speeches from the wonderful people at WAVES. We went to bed that night, ready to wake up at 3:00 am for our departure to Cusco.
Our travel day experience didn't quite go as planned. We arrived at Piura early in the morning and found out our flight to Lima was canceled. We spent the next four hours either camping out in a cafe, where we ordered an unhealthy amount of smoothies or sitting by our bags in the middle of the airport by the Latam check-in. We ended up getting into taxis and going to stay at this super nice hotel for the day, with free lunch and dinner paid for by Latam. It ended up being a not so bad thing. We had a day of rest, for our rescheduled flight at 10 pm that night. Anya wanted me to stress that this was a luxury hotel, where there were hot water showers and a FITNESS CENTER! We felt very privileged as we got to comfortably bathe, and work out in the gym. We ended up getting to Cusco and being picked up by our contact, Chaitanya, at 6:00 am.
Our week at the Eco Yoga Ashram was a very mindful experience. Our daily schedule consisted of morning meditation, yoga, breakfast, our daily seva (service hour), workshop, lunch, another workshop, more yoga, and then dinner. On our first day we learned about the chakras in the human body during our workshops; "wheels of energy along the spine that are related to the different aspects of our consciousness" – Chaitanya. Muladhara, Svadisthana, Manipura, Anahatha, Visudha, Ajna, and Sahasrara are the seven chakras that we went into depth about.
The following day we learned about Pranayama, "the vital life force". We practiced four purifications, which were breathing techniques that we began using in our meditation. The first was Nadi Shodhana, used to clear the mind, alternating nostrils, working both sides of the body. The next was Khapala Bhati, which was a series of forceful exhales, cleansing, and building heat in the body. The other two were Agnisari Dhauti and Ashvini Mudra. We then learned about Bandhas, energy locks in the body. My favorite Bandha was Brahmari (bee humming) where you place your thumbs over your ears, and hands over your eyes, and breath, exhaling with a hum.
Our next workshop topic was Ayurveda, the science of life. Ayurveda is an alternate health care system, as Claire, our teacher, explained to us. Instead of going to doctors to heal your body, you learn how to take care of your mind, body, and spirit. We also learned about the Doshas: Vata, Pitta, and Kapha.
Our food during this week was completely vegan and we enjoyed delicious food for our body and our taste buds. Breakfast was a quinoa base, with lots of fruit to pick from. Banana, mango, pineapple, papaya, and apples and soy or coconut milk to pour over it all! Then we put yummy granola on top. Our cooks were amazing, and there were no leftovers this week. We had a cooking class on our last day, where we learned how to make alfajor cookies, a traditional Peruvian delight.
As a group, we practiced noble silence after yoga, during dinner, and during our hike and breakfast the following day. Noble silence is being free from technology, which we already are, and free from communication. It was a very mindful experience, allowing for us to focus on our food, pacing ourselves, and fully enjoying the experience of eating. While we hiked up a nearby mountain, we practiced chanting mantras as we walked, inhaling with "so" and exhaling with "hum", meaning "I am that", bringing a connectedness to nature and the universe. We meditated on the mountain, with an amazing view of the valley and the grand mountain pass that we were in.
We learned how to build with adobe, a natural building technique using mud and straw. We had the opportunity to put on our mud boots again and get dirty (although some went barefoot). We had people cutting straw with a machete, while others were stomping and mixing the dirt with water and straw. Then we had people working with wooden molds, forming the adobe bricks that would later be used for eco-friendly construction. We had to move fast before the mud stuck to the wooden molds. This was a fun activity, full of laughter and embracing of the earth. The blocks then needed to be left out to dry, before being used for building.
We got to practice many different types of partner yoga, using the other person to get deeper into the stretch, and practicing balance and trust. We had a lot of fun trying acro-yoga, where there is a base, a flyer, and most importantly a spotter. One person was grounded on their back, feet up in the air, and hands out to catch as the flyer would lean forward into their feet. The base pushed up and had them lifted up into the air. Here the base would put the flyer into various positions, with the spotter close at hand. We went from the flyer releasing the hands, and using their core to lift their chest up, and reaching back to grab their feet, to the flyer being upside down, being held by their shoulders, grabbing on the ankles of the base for support.
The yoga retreat was a very spiritual experience and opened a lot of us up to this world of tranquility and solitude that we hope to continue in our future. Thank you all for reading, we are keeping you all in our thoughts as we venture through this journey. I hope you enjoyed getting a feel for our amazing week because it was one for the books.
Lots of love!
Your Inti Family
-Mateo Harmon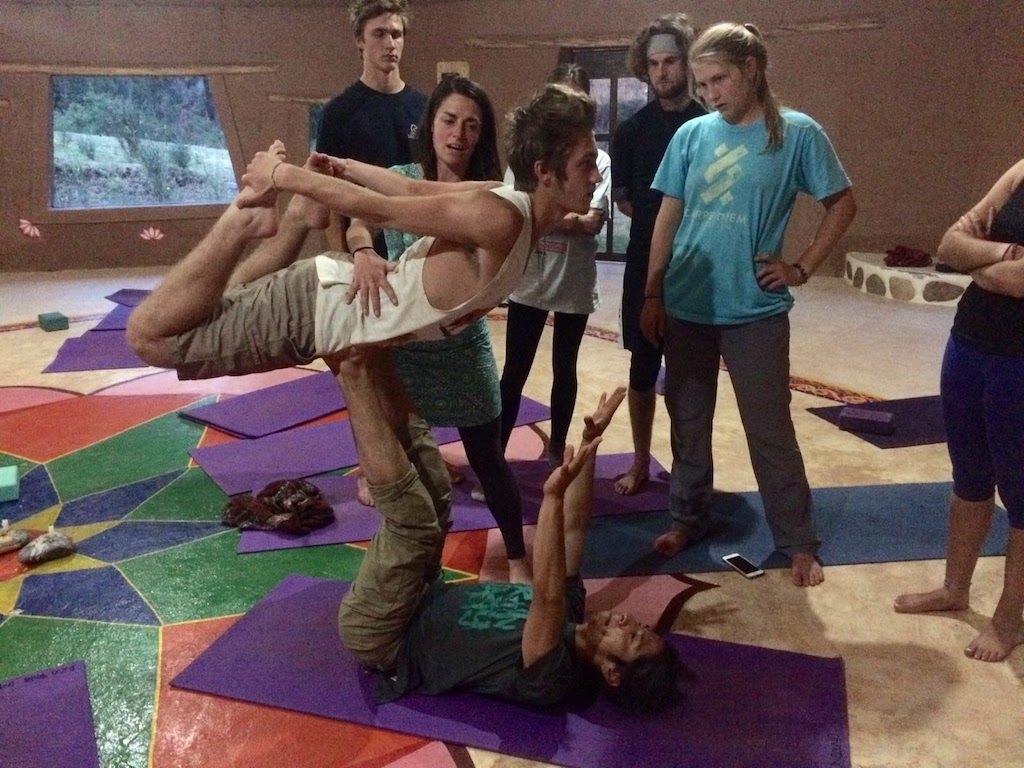 Yoga class included many unique practices, including acro yoga. Cole helps to demonstrate the next pose we would work on with help from our teachers, Claire and Alex.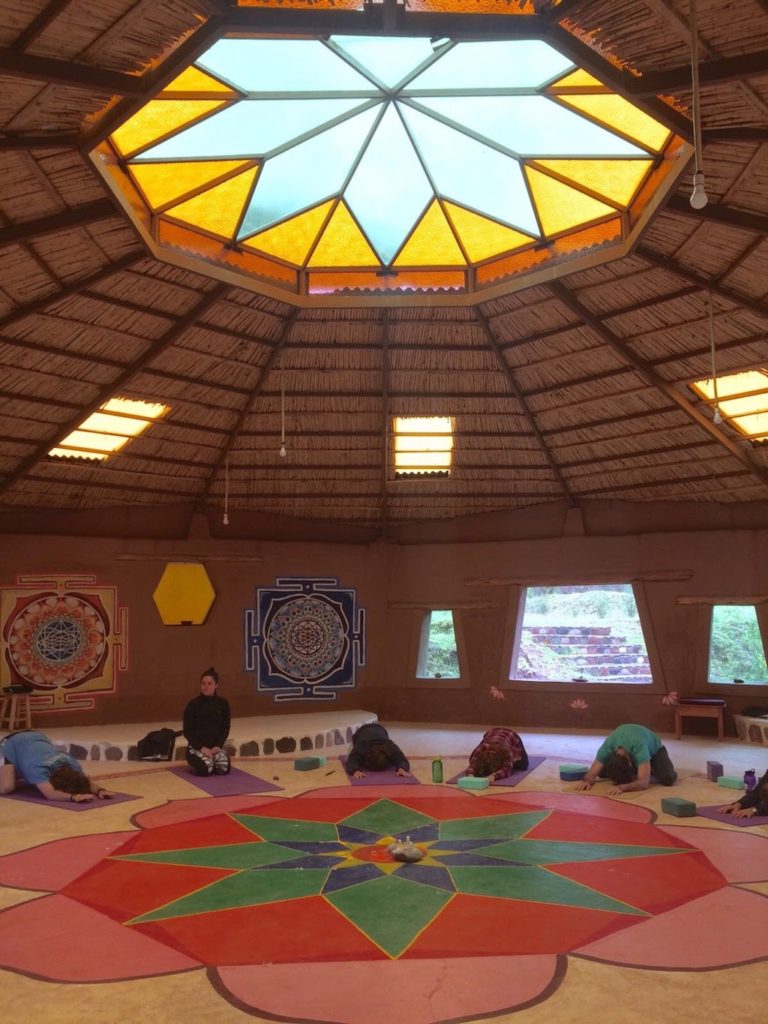 Yoga class in the adobe mud brick yoga shala.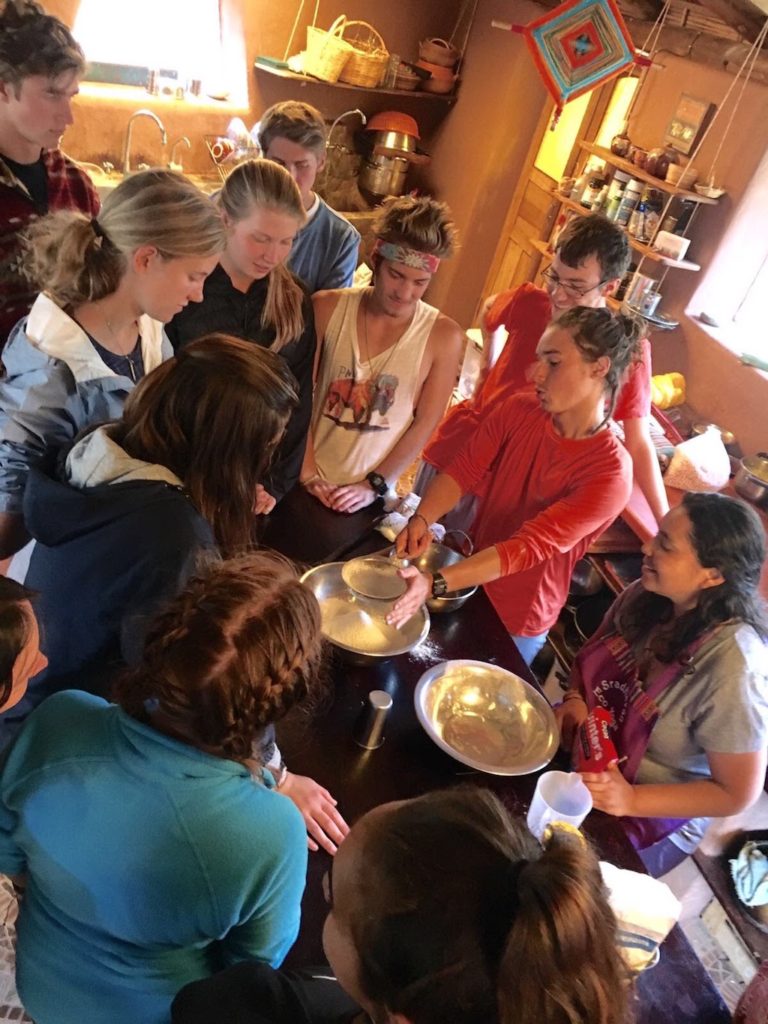 In cooking class making alfajores cookies with our amazing host chefs.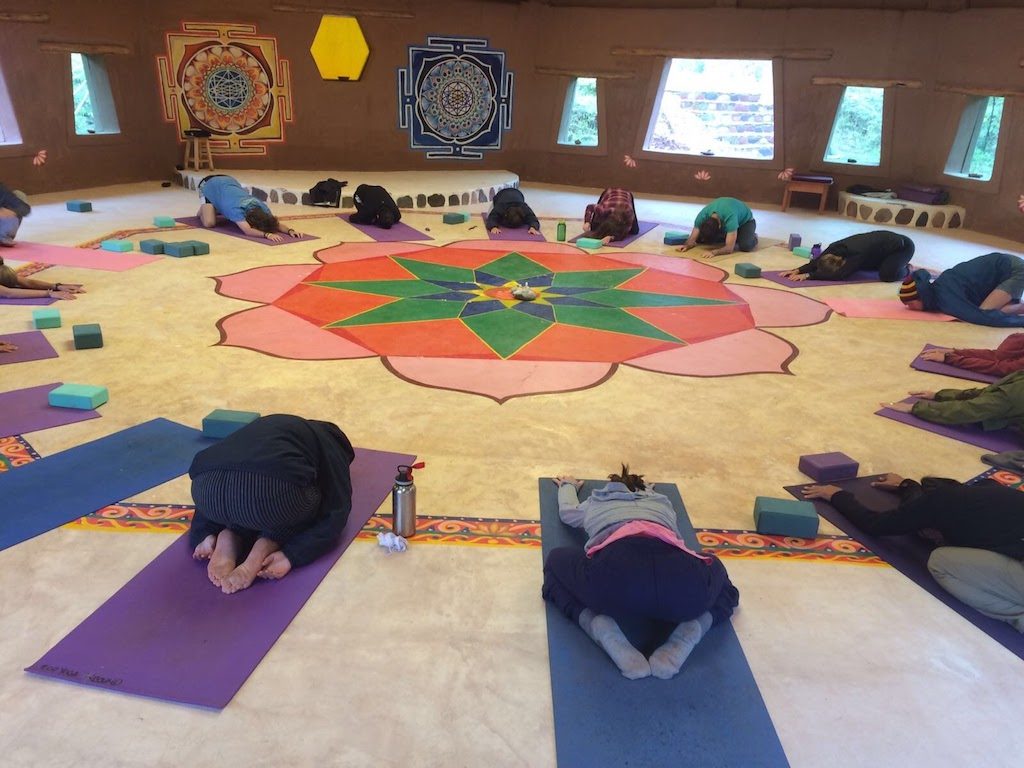 Final practices.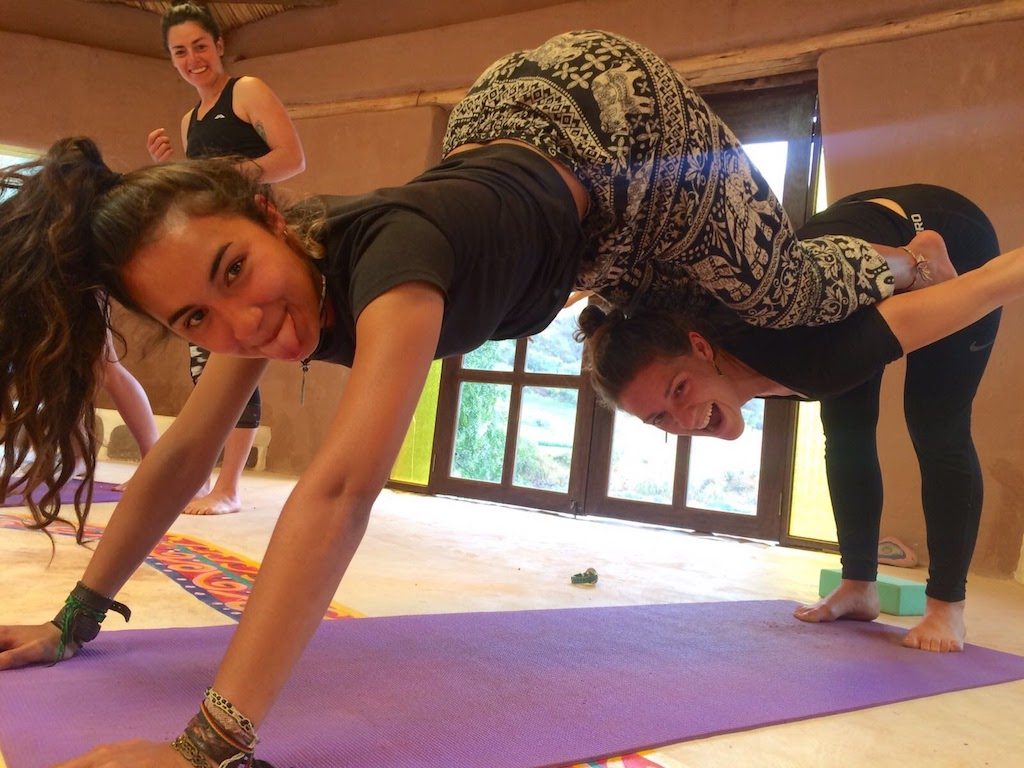 Kate and Naomi goof around while supporting each other in an acro pose.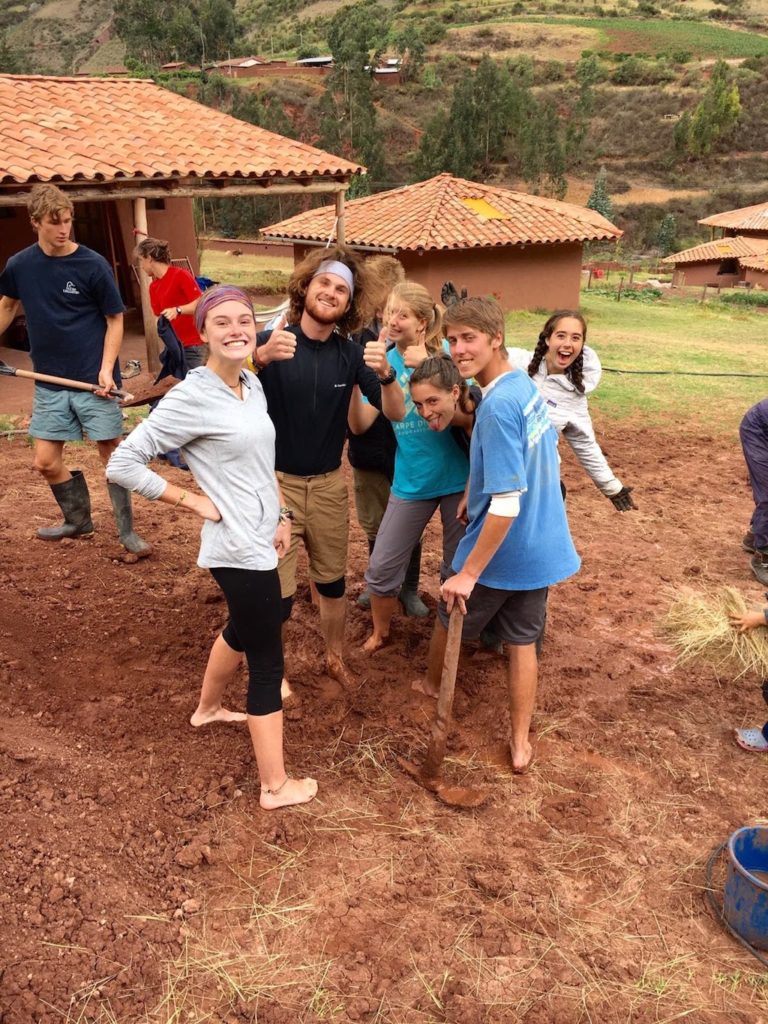 Every building on property was made of adobe mud brick. The crew learned about the process of making adobe bricks, which includes mixing mud with their feet.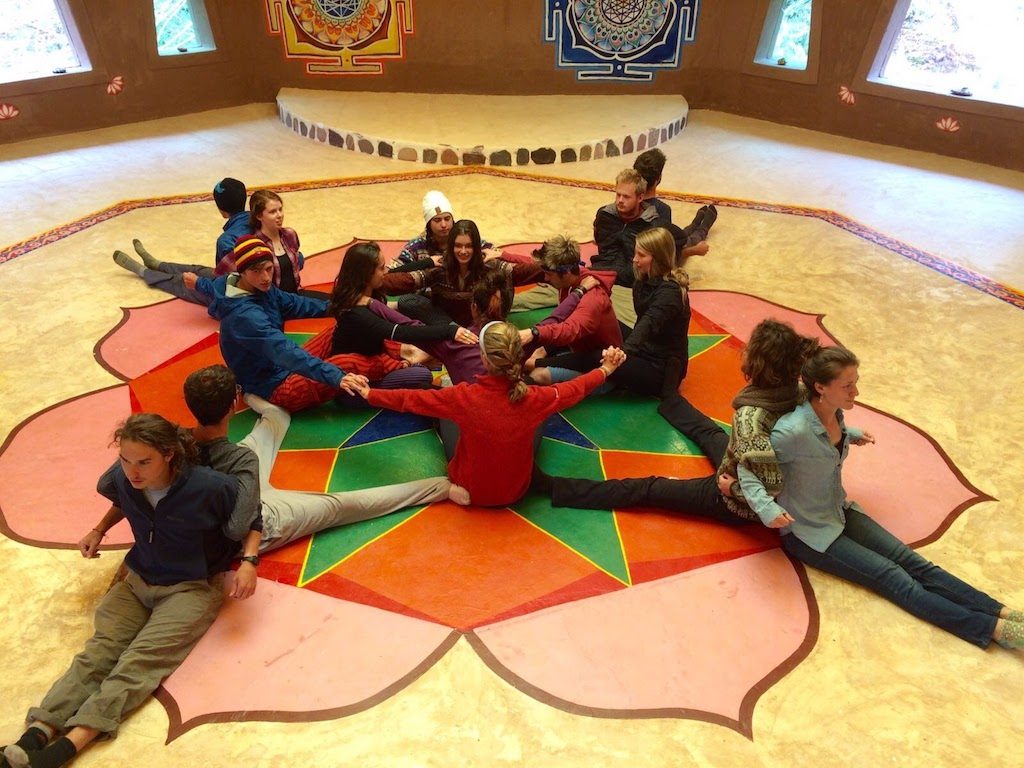 All group mandala in the shala!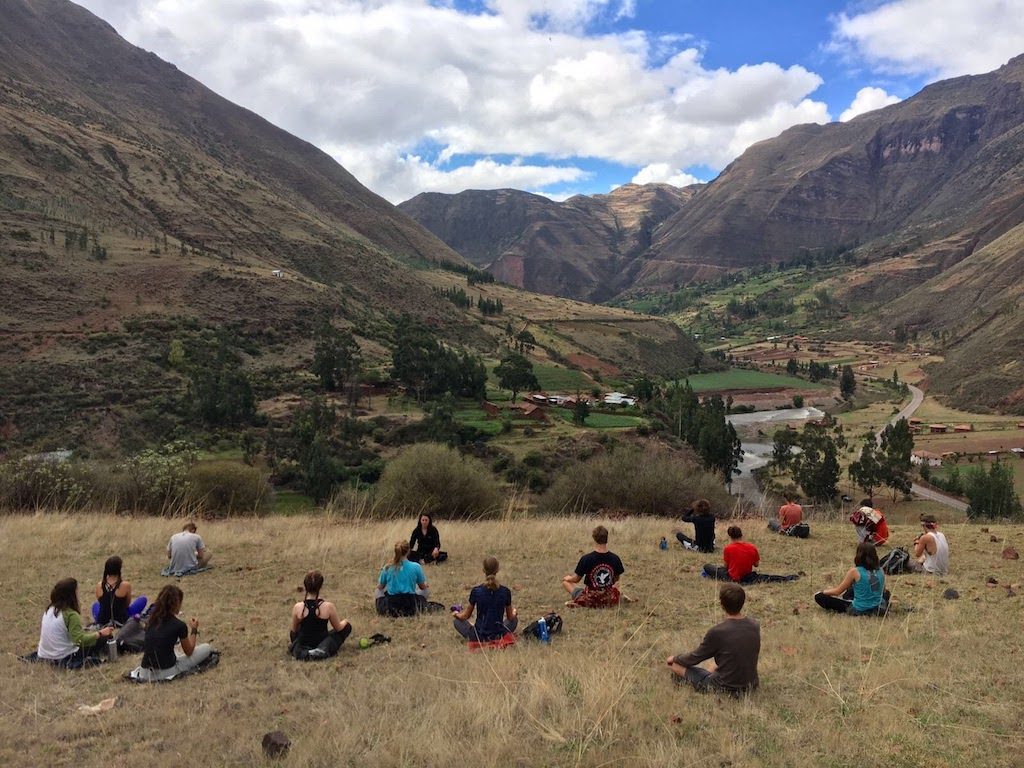 Meditating during a silent morning hike.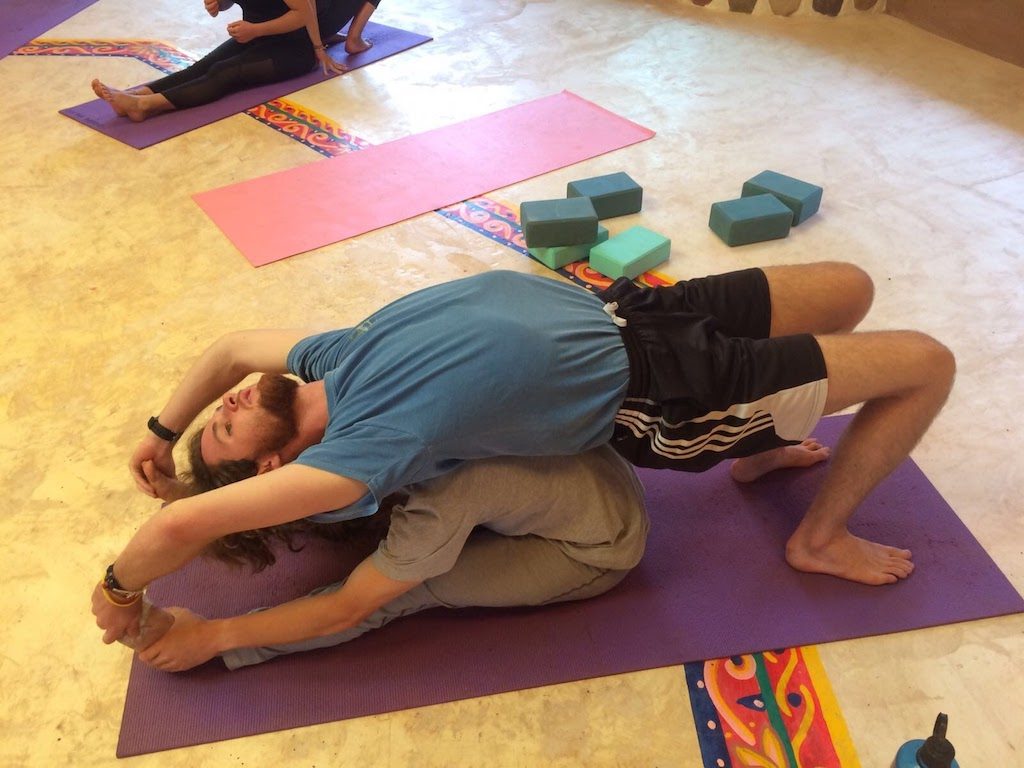 Chris and Matt practice partner stretching after an acro pose.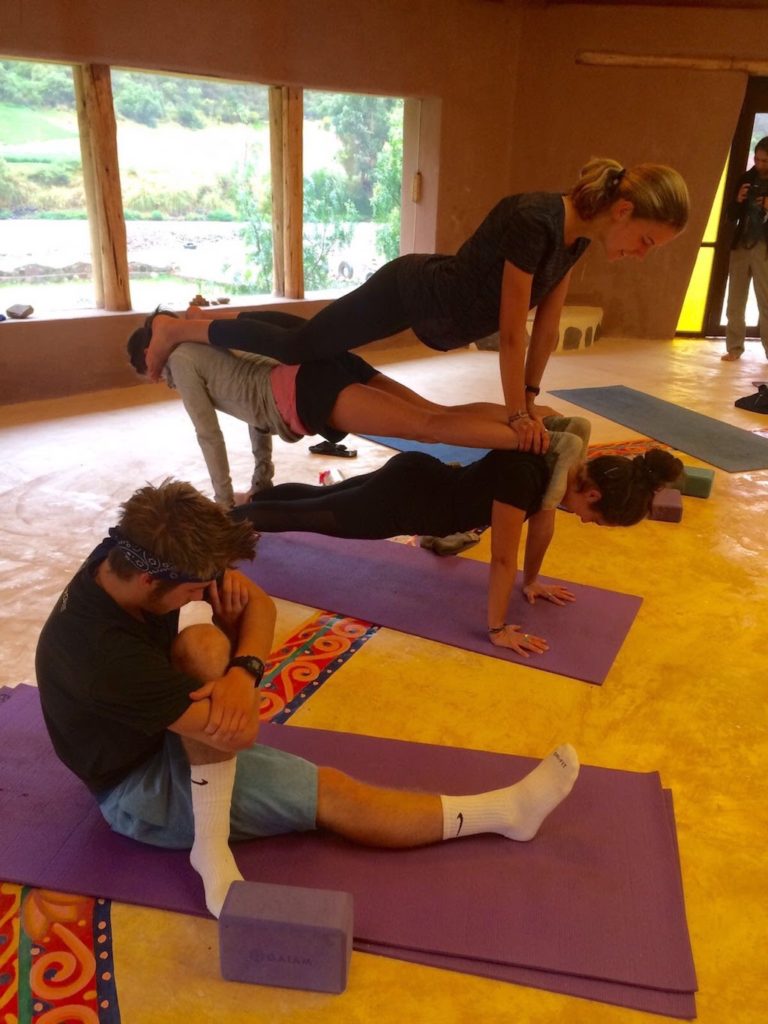 Miki, Lauren, and Renee stack up in a plank acro pose.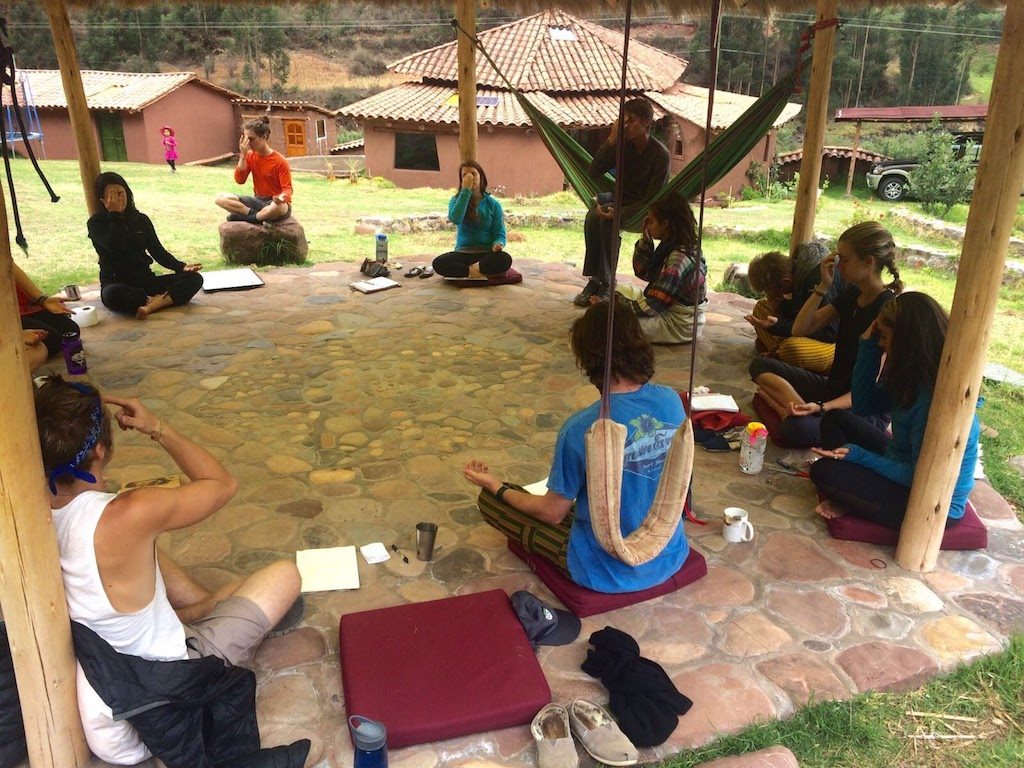 Learning about Pranayama breathing, bring life force into our beings.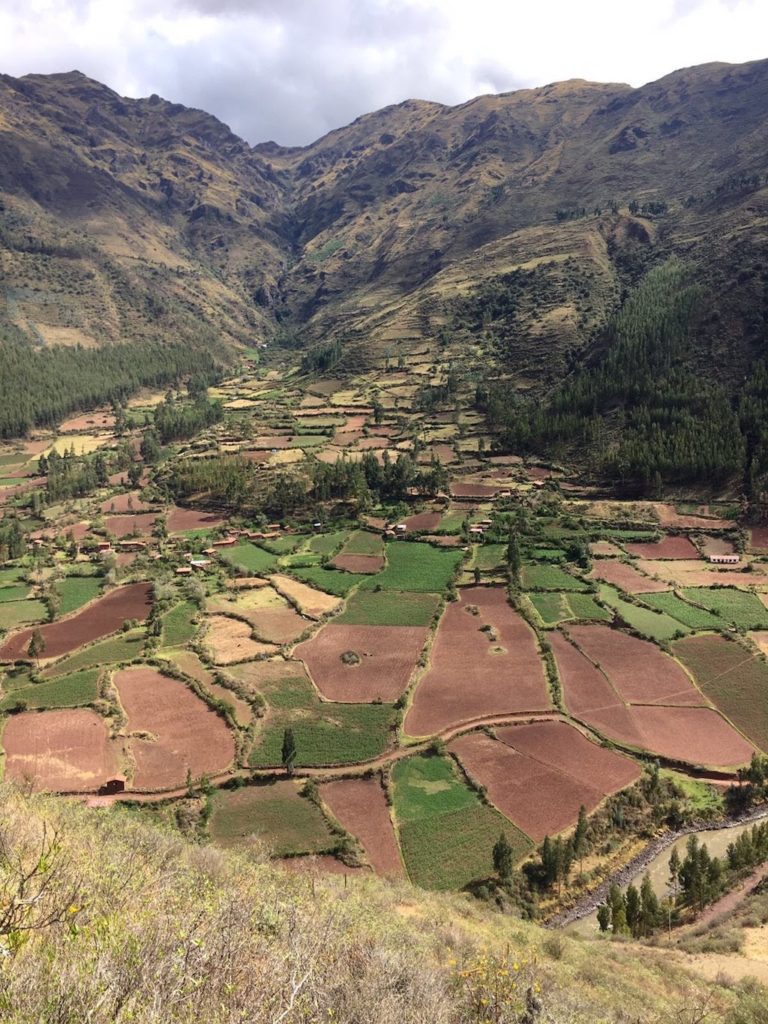 Welcome to the Sacred Valley!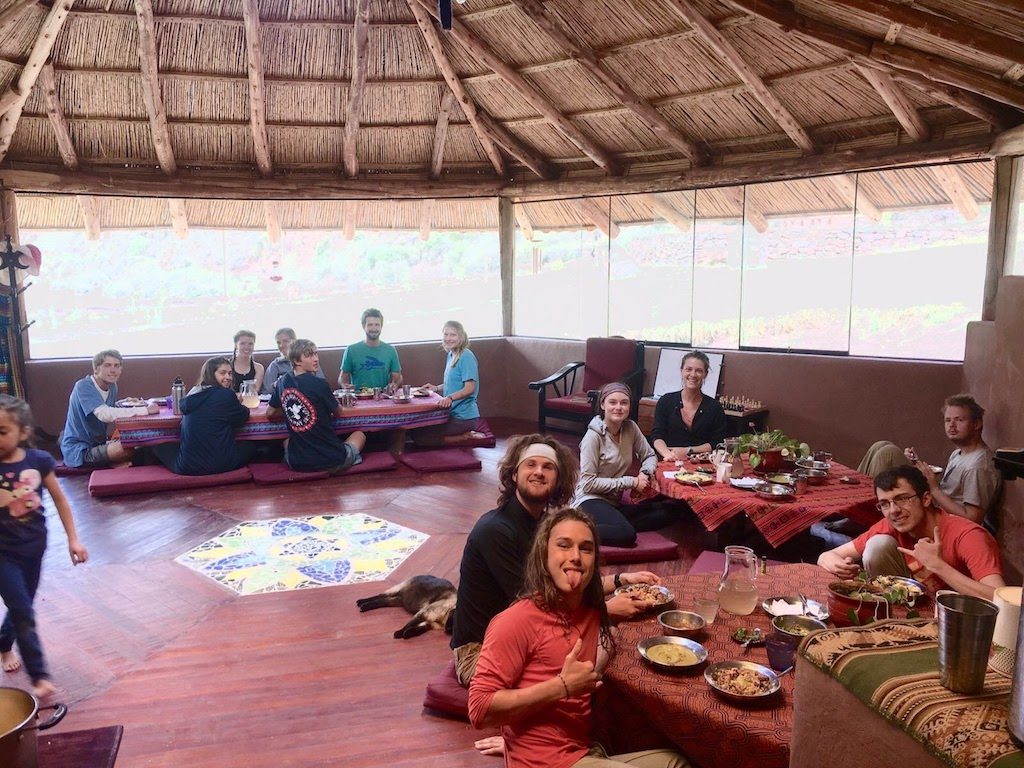 Every meal was vegetarian, healthy, and ridiculously delicious.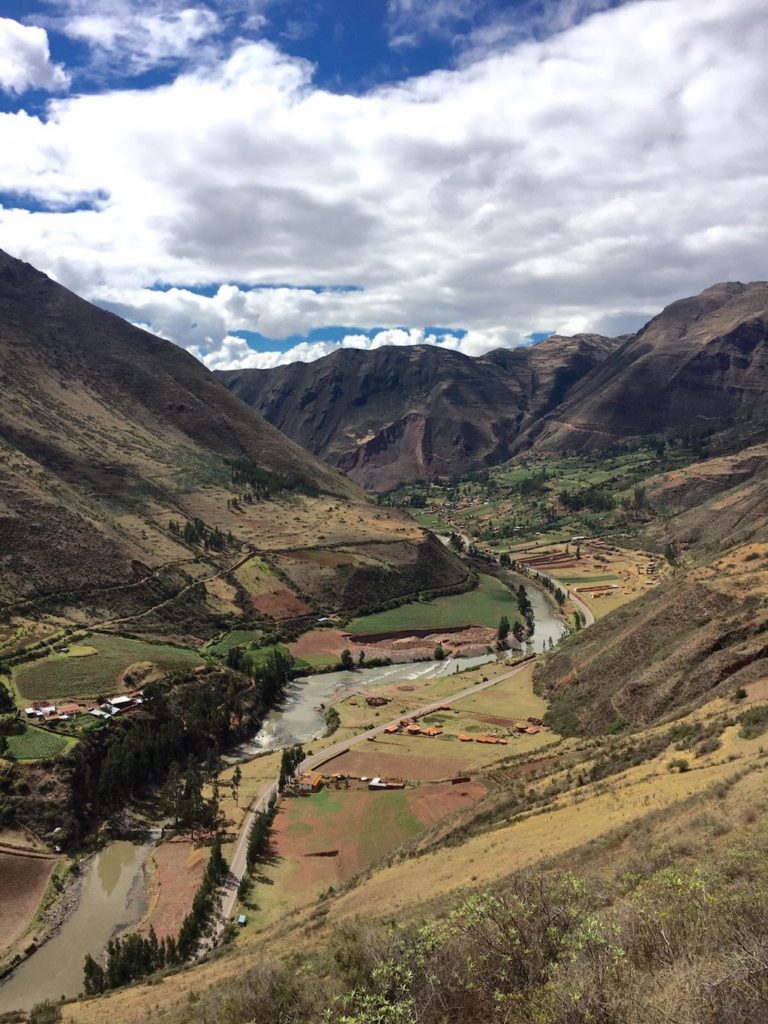 The Sacred Valley. Our yoga retreat was among the curved line of brown building on the right side of the river.