Written By Aleia & Loden
Aloha from Aleia and Loden!
Following our week of orientation, we jumped into week two on Maui ready to work hard and play even harder. In connecting with our first local partner organization, we began with morning protocol, a practice which asks permission of a space to work and grow within it. Ua, our instructor, would blow his conch shell in four directions and recite an Oli, a Hawaiian chant, followed by a moment of silence before we began our work for the day. Our mornings were filled with work near—and occasionally in—the river, pulling weeds from the lo'i patches, and planting endemic species like the Wiliwili tree with Duane the Botanist. The days usually ended with short lessons on Hawaiian cultural traditions, history, and sustainability, followed by a chanting practice. We started learning the Oli 'E Ho Mai' as well as some basic hula moves.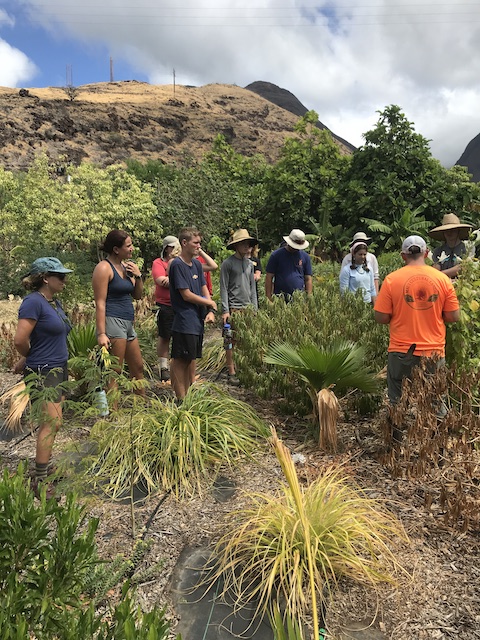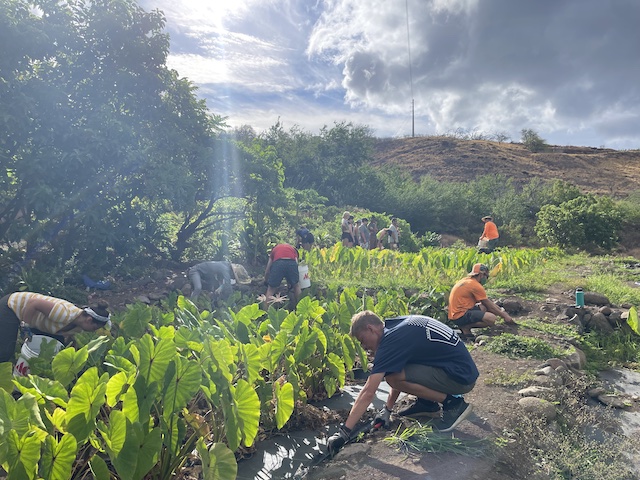 An early Wednesday morning found us in the sacred Iao Valley led by Ua, an incredible cultural practitioner. He guided us through a forest blanketed by ferns where we ate fresh guava, harvested ti leaves, and washed the leaves in the crystal clear waters of the river backed by a steep green mountain. After freezing the ti leaves overnight, Lizzie, another amazing facilitator, taught us how to weave our own leis. In the afternoon we visited Honolua Bay. The trail to the beach was lined with kukui nut trees which towered over us, blanketed by a canopy of vines; the forest floor was softly carpeted with ferns, fallen leaves, and patches of grass, all woven through with the gnarly and spiraling roots and vines of the trees. Though people were talking, there was a quiet and ancient peace to the forest, something resembling a holy place. The creaking and swaying of the branches in the wind humbled all those who walked below their gentle rustling. It was almost as if you could hear the trees talking to each other. The cool air was sweet-smelling and even the sun was filtered and softened to a clean, glowing grey-green.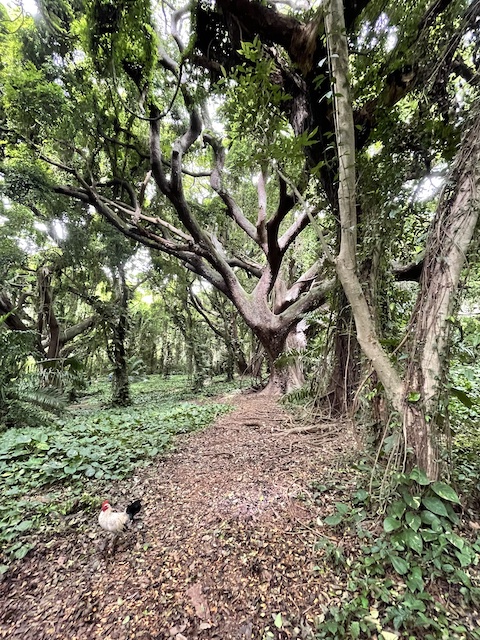 Once we got to the beach, snorkeling proved to be an experience ripe with vibrant corals and scurrying fish. Breathing just below the surface of the water, watching urchins and eels alike sway in the ocean current, feels as though you're stepping into another world altogether. There was a sharp crackling noise that was present in the clear cyan waters, the only other sound besides the hollow inhales and exhales of your own breath. Karin taught us the next day in an ocean awareness lesson that the presence of such popping sounds are actually the signs of a healthy reef. Small snaps are produced by shrimp waving their antenna, crabs pinching the water as it passes over them, and hungry fish munching on a snack.
A much anticipated (and needed!) laundry day on Friday was highlighted with dinners from an assortment of food trucks in the town of Lahaina, with food styles ranging from Mexican to Hawaiian and we even got the chance to try poi mochi. Saturday brought another early morning—a 5:30 am wake-up call to go surfing. By the time noon rolled around, the group had also tried their hand at capoeira, a dance-like martial art that originated in Brazil, which also incorporates live music played by the teachers and senior students. The high energy class was actually led by one of our surf instructors, Fabio. The group finished the week off by hanging out in the town (Loden made it through the day with the promise of iced coffee in Lahaina!) getting various refreshments and t-shirts. Ty, Calvin, Cooper, Ben, and Amanda found a small henna shop and got #tatted (no worries, they're temporary!). Belle found a coffee shop called Belle's Surf Cafe.
After a long week, some of the group had the opportunity to sea kayak, during which Ty spotted two turtles and a shark! Unfortunately, the rest of the group was unable to go out when the wind picked up; however, they expect to go next week.
We're excited for the coming week and ramen for dinner tonight!
P.S there was no wifi anywhere except this one spot, so this is what we did! #carpethatdiem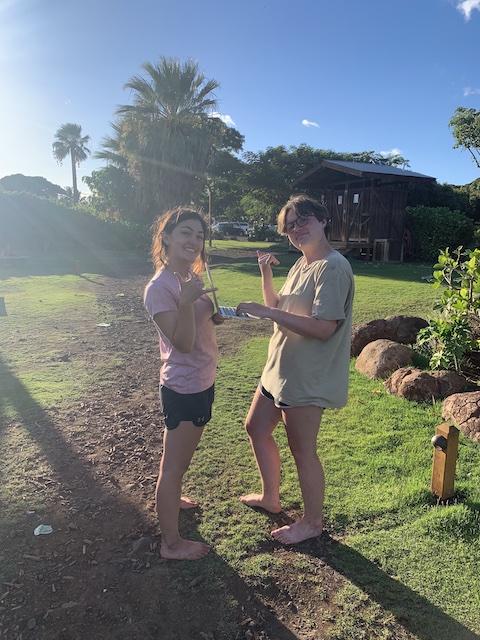 P.P.S Calvin and Cooper got matching shirts with zippers and they look good next to each other.