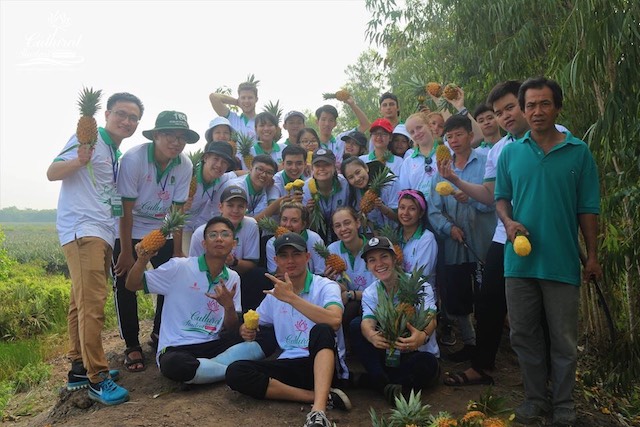 Written By Kylie
Xin chao from Ho Chi Minh City! After Kylie and German's extra few days in Phnom Phen with visa issues, the group was finally reunited. In the morning we were happily overwhelmed by all the welcoming handshakes and hugs from the Tan Tao University students. They picked us up from our hostel, and as we rode to Tan Tao University we all got to know each other better. The Vietnamese students are a part of a program called CASE, Cultural Academic Student Exchange, which is where the students take a week off of school to interact with international students, practice English, and also to learn about other provinces in Vietnam. Tan Tao is a fairly new university and are unique because all of their classes are taught completely in English and are a non-profit university. We had a tour of the gorgeous campus, learned more about the university, and played some games to break the ice.
That night we had the pleasure of joining the TTU Music Night where many students danced and sang. We also played the game of getting a cookie from your forehead to your mouth without using your hand, which Bryley absolutely dominated. There was a final performance of "Can't Keep My Eyes Off of You" in which our own Paulina belted out a heartwarming performance. At the end of the night we were able to request songs and we danced for a while to the OE's favorite Taylor Swift with a sprinkle of "Apple Bottom Jeans" and "Crank That." That night we slept at the dormitories and got up early the next day to head to Thanh My village to our first homestay all together. We went to a primary school to prepare games for the next day activities. Back at the homestay we were all excited to be staying together and Claire C. quickly taught the TTU students Dutch, the Carpe kid's favorite card game.
The next day we headed to the pineapple fields and prepared to harvest by wearing knee-high thick socks and rubber gloves to protect us from the pineapple's prickly leaves. Harvesting the plants includes walking over the moat that surrounds the plants, trekking through, cutting, then tossing them in the water for the boat team to collect which was Claire C., Madi, and Kate. After enjoying about 5 pineapples each we learned how to make our own bamboo fishing poles then set out to catch dinner. Sammi and Kate caught some fish in the pond behind the house, while the rest of us only caught some proper shrubbery. All week we've been heavily photographed and a picture of Joe, Harrison, and Lucas surfaced on the TTU facebook and then on to a "handsome boys" Facebook page. We've all had fun this week seeing how many likes it's been getting, which currently is at 6.3K likes. The students thought this was hilarious and were so excited to take pictures with the famous Joe. After the photoshoots we went back to the primary school for the real event. We played games, gave children scholarships who did well on a test and are in difficult financial situations, and the TTU student leader Dien interviewed Harrison, Kylie, Joe, Sammi, and Claire C. on the CASE program and experience so far. That night we watched kid shows on the homestay's TV and taught the TTU students an American classic, "Apples and Bananas."
The next morning we left at 5 am to Tan Hoa Thanh village to learn how to weave hats. The women teaching us were masters and could finish one in 10 minutes, which were sold for less than 50 cents. It was an impossible task for us and we just sat in awe of their skill. We then went to our last homestay in My Phong village which is the hometown of An, the TTU teacher. We headed to Nahn Ai disability school which was created in 2003 for children who are deaf or differently abled. We watched their dance performance and we performed the "Macarena" and "Cha Cha Slide" for them. The children received scholarships and after we played games. Joe joined an intense game of soccer with the students. We took a quick trip to our favorite place, the mall, for more snacks and some boba.
The next day we suited up in traditional Vietnamese clothing at a water resort to play group building activities. Harrison thoroughly enjoyed the bridge game, where 2 teams faced off on a rickety bridge and try to knock each other off by swinging back and forth. Paulina made a great effort after finally standing up, but sadly was flung in a spectacular fashion into the water. We also played a game where we were in a pond and had to catch fish with our hands and we could steal them from the other team. Another game included biking on a beam across the river, which Joe and Harrison were the only successful ones from our group even though Bryley, Madi, and Kylie at least attempted. After playing a plethora of games we headed to a coconut candy store. The province we were staying in is famous for their coconuts and Kate bought the group a pack of candy for the students to try. Then we made our way back to the mall for DQ blizzards, pizza, and the arcade where Kylie and Madi played Dance Dance Revolution and Joe won two creepy looking stuffed animals in the claw machine. Before dinner we stopped at a coffee shop for some down time and to try some coffee that wasn't just the Nescafe packets we've grown addicted to, especially Audrey and Sammi. We got some pho at a famous noodle shop and then had Vietnamese lessons from a few of the Tan Tao students. We prepared for the next day where we'd be at My Hoa Primary school to teach them English.
The next morning at the new school we rolled into the normal schedule of scholarships, "Macarena", "Cha Cha Slide", and then games. Then we split into groups to classrooms to teach English alongside our Vietnamese friends and played games. After the school we returned to the homestay to learn how to prepare a banana bean sticky rice dessert, which we've now made in every country we've visited. We also made Xeo cakes which translates to "sizzling cakes" which looked like a large omelette filled with pork, shrimp, jicama, and carrots. Later that night we had an award closing ceremony for all the students and the homestay families. The TTU students presented us with their own awards and some to mention are Harrison as "Sassy Boy", Madi as "Pest Girl" (which we're still not sure what that means), and German as "Capricorn and Tall". We ended the night with some cake and karaoke, where Dien sang his favorite song "Lose Yourself" by Eminem.
The next morning we packed, ate, of course more karaoke, said our goodbyes, and then we headed to Ho Chi Minh City. We're all so sad to leave the new friends we made this week, but know we are all lucky to have experienced this amazing opportunity with the Tan Tao students. A huge thanks to CASE and Tan Tao University for this unforgettable week. We will miss you all.