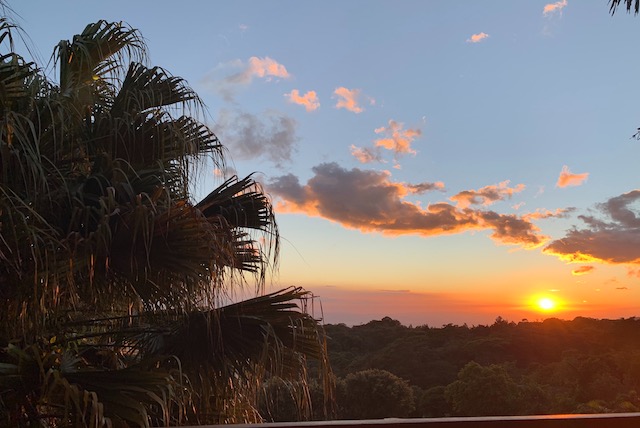 Written By Sierra, Latitudes Year '20 Costa Rica
Hello everyone! I was fortunate enough to have the opportunity to volunteer at Kids Saving the Rainforest which is located in Quepos, Costa Rica. I visited Costa Rica when I was much younger, but going back and being able to give back changed my perspective and increased my appreciation for the beautiful country.
Kids Saving the Rainforest is a nonprofit organization that rescues injured animals, nurses them back to health, and releases them if they are capable of surviving in the wild again. Kids Saving the Rainforest has a nursery, for the young animals, a Vet Clinic, to preform physicals etc, and a Sanctuary, which houses most of the animals that are incapable of surviving on their own in the wild. I worked in the Sanctuary. I helped prepare the animals food, serve their food, clean cages, give medication to animals who needed it, and reconstruct their cages to keep them engaged and interested in their cage. The work was often very demanding but it was rewarding to see the animals happy and healthy.
In addition to forming beautiful bonds with the animals, I created many unbreakable bonds with people from all around the world. Other volunteers were from various countries including, United Kingdom, England, Belgium, France, and many other places. Being Quepos is a small town, we all began to recognize the local people and befriended them as well. The community we built at Kids Saving the Rainforest and the local community we built was constantly welcoming, ready for new adventures, and thankful for any time we were able to spend together. We had multiple fires on the beach, took tours, had countless meals, and made unforgettable memories together. I would have never predicted our time together would have been cut so short. We ended many nights with the intention of seeing each other the next day. When we got news regarding the program ending early and having very little time to prepare, we had no time to say our "goodbyes" or "see you soon." Meeting so many people, making memories with them, and living with them for 7 weeks made leaving very hard. Also, going home to a world that was in such distress made it that much harder to leave the relaxed country of Costa Rica.
The greatest life lesson I learned from this trip is to never take anything for granted. Costa Rica was the trip of my dreams and far exceeded any expectation I had and I am already planning a return trip to pick up where I left off.